Brazil: Still Waiting For The "Spectacle Of Growth"
Investors are rushing back into Brazil, after fleeing the country in 2002 on fears that left-leaning President Luiz Inácio Lula da Silva, elected in October last year, would lead the country into debt default.
Now, though, investors are impressed by the new government's fiscal austerity and its success in stabilizing the economy. In late November, Brazilian stocks hit their highest prices ever. And on Dec. 1, the yield spread between Brazilian bonds and U.S. Treasuries of similar duration fell below five percentage points for the first time since May, 1998.
But the "spectacle of growth" that President Lula promised in his campaign has yet to materialize. Recession hit in the first half. Then, in the third quarter, real gross domestic product grew by just 0.4% from the second and was down 1.5% from its year-ago level. Workers' incomes fell more than 15% in real terms in the year ended October, and unemployment, at nearly 13%, is higher than it was when the government took office on Jan. 1.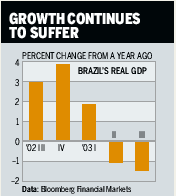 Lula -- who so far has shown the will, if not the ability, to tackle hunger and other social problems -- remains popular. But getting Brazilians back to work will require more than the 3.5% growth many economists forecast for 2004.
Progress made this year on pension and tax reforms will do much to improve the efficiency of the economy in the long term. Other business impediments, such as Brazil's slow and obstructive judicial system, are in the government's sights. But what the economy needs now is investment. Unfortunately, the government must roll over about $340 billion in debt in the coming year, sopping up almost all the available credit out of the financial system. And because of the government's huge credit needs, real interest rates will remain high.
With capital for private investment both scarce and expensive, inequality and unemployment will persist. The risk is that next year's growth, instead of setting Brazil on the path to the sustainable expansion of at least 6% or 7% a year that it needs, will be just another spurt in the stop-go cycle that has characterized Brazil's economy for decades.
By Jonathan Wheatley in São Paulo
Before it's here, it's on the Bloomberg Terminal.
LEARN MORE