U.S.: That Delicious Smell? It's The Economy Cooking
Robust capital spending and profits, plus job growth, are now being served
Here's an economic recipe that's sure to be a holiday hit in almost any household: Mix a generous portion of business profits with some capital spending and new jobs. Add a big scoop of aftertax personal income, some rising stock prices, and a dollop of consumer confidence. Baste with low interest rates, and the result is a tasty dish for the holiday season that will be savored well into 2004.
True, expecting a satisfying feast from this two-year-old recovery has proven a disappointment time and again. That's largely been the result of noneconomic shocks, from terrorism to corporate scandals.
But focus on economic fundamentals alone, and it's easy to see that this recovery finally has legs, thanks in large part to a more even split between income gains accruing to businesses and money going to households. Up until now, the income generated by the ongoing surge in productivity has been filling up corporate coffers more than it has benefited the consumer sector. Moreover, businesses seemed content to sit on their cash instead of using it to finance new computers and machinery, or to hire new workers. Not surprisingly, the economy moved in a stop-go fashion, and households felt uncertain about their future in the jobless recovery.
Now, facing a solid pickup in demand, businesses are increasingly willing and able to invest in new equipment and to expand their payrolls. That became evident in the summer. The Commerce Dept.'s revisions to third-quarter real gross domestic product show the economy grew at an annual rate of 8.2%, up from an original tally of 7.2%, and corporate operating profits soared.
Companies used part of that money to lift their equipment outlays by 18.4%, a pace not seen since late 1998 in the middle of the capital-spending boom, and to begin hiring workers. Businesses were also less cutthroat when it came to inventory drawdowns. Almost all of the upward revision to real GDP came from a refiguring in inventories, which added slightly to economic growth instead of subtracting, as Commerce initially thought.
The monthly data suggest those trends are continuing in this quarter, with more to come. In fact, 2004 promises to be a year when everybody wins: more profits for companies and more jobs and income for consumers.
THE OUTLOOK FOR CONSUMER spending could hardly be in doubt, given the most favorable set of supports in years, starting with healthier labor markets. The declining trend in new claims for unemployment insurance suggests job growth is picking up from its 125,000 pace in September and October. New claims fell to 355,000 in mid-November, and the four-week average is down to levels not seen since before the recession. In the past, new claims running at a level of about 350,000 per week have been consistent with monthly gains in payrolls of greater than 150,000.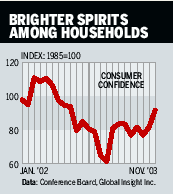 Next on the list of pluses is the stock market. The Standard & Poor's 500-stock index is up more than 30% from its March low. Those gains will do more than just make households feel better. Consumer spending in the very short run has become increasingly correlated with changes in stock prices. So the continued rise in the stock market will lift future spending.
Don't count out mortgage refinancings as a source of cash, either. Although refis have fallen off sharply from their nosebleed heights of last spring, they remain at their high levels of 2001 and early 2002. In early 2004, homeowners will still be able to take advantage of low rates, since the Federal Reserve is in no rush to raise short-term rates and low inflation is keeping bond yields low. Plus, consumers are increasingly relying on home-equity loans. The Consumer Bankers Assn. reports that the average credit line for home-equity loans is up to $69,513, up 26% from last year's average.
RISING CONFIDENCE is another bonus for consumers. The Conference Board's index of consumer attitudes rose 10 points, to 91.7, in November, the highest level in more than a year (chart). Households expressed increased optimism in both their present situation and in the future, with an improving assessment of the job outlook.
Brighter consumer spirits are especially timely for retailers as the holiday shopping season starts up. But bear in mind that consumers will not repeat their buying spree of the third quarter, when purchases jumped at a 6.4% annual rate, the biggest gain in six years. This quarter's growth is set to slow, perhaps sharply.
However, that isn't a reflection of any sudden change in spending patterns, but rather the pattern of household purchases over the summer. Incentive-powered car sales in July and August added about two percentage points to last quarter's overall spending pace. When the financing deals expired, car sales crashed in September and October. As a result, total consumer purchases began this quarter in a deep hole, and the quarterly average of the monthly numbers will not show much of a gain from its very high third-quarter level.
However, spending will strengthen as the quarter progresses. First, a new round of auto incentives is set to revive car sales. Second, the new trend in holiday shopping is for consumers to delay heading to the mall until the last possible minute. Gifts that once were purchased on Black Friday, the day after Thanksgiving, now won't be bought until Christmas Eve. That means spending in the fourth quarter will finish up completely opposite to the way the third ended. And sales should start off 2004 well above their fourth-quarter average.
EVEN MORE IMPORTANT for the early 2004 outlook are the benefits from the summer's tax cut, which have already boosted aftertax income in the second half and are hardly played out. In the first quarter, early tax-filers will be rewarded with refund checks that adjust 2003 taxes retroactively for tax cuts that apply to the first half of 2003. That means aftertax income is due for another sizable jump in the first and second quarters.
What happens after the tax refunds are cashed? Thankfully, consumers will not have to carry the economy's load as they have in the past. Businesses are set to help out. The jump in demand last quarter pushed total operating profits up 30% from a year ago. Nonfinancial corporate earnings jumped 43%. Both gains are the best in two decades (chart).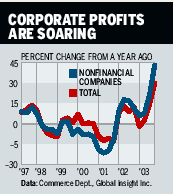 Given the boost from profits plus easier financial conditions in the credit markets and at banks, and rising demand both at home and abroad, the business sector is starting to contribute heavily to economic growth. The pluses will not just be increased capital spending and inventory building. Companies will also add more workers. Better job growth will offset much of the fading stimulus from tax cuts and refi money by next spring.
Key missing components like job creation have made this recovery as palatable as cold stew. Now, though, all the essential ingredients have been assembled, and the economy is serving up a satisfying dish of better profits and rising incomes. Moreover, consumers and businesses will be able to enjoy the leftovers well into 2004.
By James C. Cooper & Kathleen Madigan
Before it's here, it's on the Bloomberg Terminal.
LEARN MORE