Spain: This Bull Is Outrunning The Euro Zone
Buoyed by a strong economy, Spain's conservative People's Party (PP) will most likely retain power in next year's general election, under the leadership of the party's anointed candidate, Mariano Rajoy. Elections are expected in March.
Since 1996, under the PP and Prime Minister José María Aznar, Spain's economy has blossomed, growing at an annual rate of 3.4%, well above the euro zone's 2%, and the jobless rate hit 11.7% in the third quarter, down from a high of 22%. Now the economy heads into 2004 powered by strong consumer spending and construction, the result of record low interest rates. In particular, housing affordability has soared, and home construction has nearly doubled in the past decade.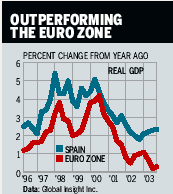 On Nov. 21, Spain reported third-quarter growth of 2.4% from a year ago. It escaped the recessions that plagued Germany, France, and Italy, and in 2003 it will post faster growth than all euro zone nations except Greece. Business confidence, especially among retailers, rose strongly at the start of the fourth quarter, and growth is expected to rise to near 3% in 2004.
Spain's sturdy growth has generated higher inflation than in the euro zone generally. Consumer prices in October were up 2.7% from a year ago, vs. 2.1% for all euro economies. Nevertheless, the rate is easing. It is down from 3% in September, partly reflecting the stronger euro, which is helping to offset the impact of costlier oil and energy products.
Moreover, with its budget deficit near balance, Spain has more fiscal flexibility than the large euro zone economies. Aznar's latest round of tax cuts took effect back in January, another plus for consumers. Rajoy, already revving up for the elections, has pledged to use that flexibility to cut taxes further in coming years.
Since the PP's September choice of Rajoy, a Deputy Prime Minister and a career politician, the party has risen in the opinion polls, while the opposition Socialist Workers' Party has been set back by scandal and a lack of direction. Rajoy, 48, is widely expected to follow Aznar's economic game plan, including continued measured efforts at reforming labor, financial, and energy markets.
By James C. Cooper & Kathleen Madigan
Before it's here, it's on the Bloomberg Terminal.
LEARN MORE