More Dentists Are Drilling With Biolase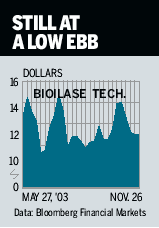 When Biolase Technology (BLTI ) was featured in this column on Feb. 3, it was at 5.30. It hit nearly 15 on July 22, but got knocked to 10 in August after Biolase restated sales and earnings for 2000-03 -- at auditors' urging. Biolase makes laser dental drills: quieter and less painful.
The restatement to cash accounting didn't materially change results. So analysts didn't much alter forecasts. "Investors overreacted," says Peter Cardillo of Global Partners Securities, which owns shares. On Oct. 29, Biolase reported third-quarter sales up 94%, to $13.4 million, and earnings up 80%, to $2.6 million, or 11 cents a share. The stock has inched up to 11.84, but some pros think it's still a buy, especially since shares borrowed by short-sellers -- on a bet that the price would plunge further -- have jumped to 8.4 million shares, or 39% of the stock in public hands.
"These nonbelievers are playing a dangerous and losing battle because we figure sales and earnings will grow 50% in each of the next two years," says Cardillo. He sees the stock, now at 11.88, at 20 in a year. Bernie Schaeffer of Schaeffer's Investment Research says that even though Biolase turned profitable in 2002 after years of losses, sentiment has turned negative. "That is an opportunity," he says. He notes the stock is above its 200-day moving average despite all the short-selling. Alex Arrow of Lazard, who rates Biolase a buy, predicts earnings of 31 cents in 2003, and 52 cents in 2004, vs. 7 cents in 2002.
Note: Unless otherwise noted, neither the sources cited in Inside Wall Street nor their firms hold positions in the stocks under discussion. Similarly, they have no investment banking or other financial relationships with them.
By Gene G. Marcial
Before it's here, it's on the Bloomberg Terminal.
LEARN MORE