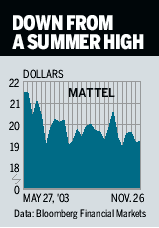 Mattel (MAT ), tops in world toys, may not be a hot-seller this Christmas, but its stock could be the bargain of the season. The company's new products, such as its hip-hop dolls called Flavas, "haven't shown much traction," and sales of Barbie and Fisher-Price toys have been disappointing, says Joseph Yurman of Bear Stearns (BSC ).
But the analyst is upbeat on Mattel stock and thinks it would be a good stocking stuffer: Buying now, at around 19 -- down from 23 in July -- it is a "sound investment," says Yurman, who sees the stock far higher in three to five years. In the next quarter or two, the stock should trade within its 52-week range of 18 to 23, until U.S. sales improve, he says. Mattel's twin moves on Nov. 21 -- hiking its dividend from 5 cents a share to 40 cents and approving a buyback of $250 million in stock, after another $250 million buyback begun in July -- "signal that management views the stock as undervalued," says Yurman.
He sees Mattel (MAT ) earning $1.18 a share in 2003 and $1.41 in 2004, vs. 2002's $1.03. Mario Ferro of Value Line notes that sales have been robust overseas. "International growth is offsetting weakness on the home front," says Ferro, who expects "solid earnings growth" for Mattel out to 2006-08.
Note: Unless otherwise noted, neither the sources cited in Inside Wall Street nor their firms hold positions in the stocks under discussion. Similarly, they have no investment banking or other financial relationships with them.
By Gene G. Marcial
Before it's here, it's on the Bloomberg Terminal.
LEARN MORE