Commentary: Will Bronfman Have The Last Laugh?
If piracy keeps falling and Web sales keep climbing, Warner Music has a chance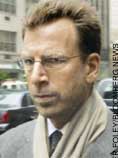 Is Edgar Bronfman Jr.'s latest big bet on the music industry a fool's play? The announcement on Nov. 24 by the former Seagram Co. scion that he and an investor group had agreed to buy Warner Music Group for $2.6 billion left some wondering if Bronfman had learned anything from losing $2 billion of his family's fortune on earlier Hollywood misadventures.
Beset by sweeping online piracy and a lack of hot new acts, worldwide music sales this year will likely fall 9%, to $28 billion, after declining 20% over the past three years, says Informa Media Group. Still, Bronfman and his backers are convinced that the worst will be over soon and that they'll be able to turn music into a vital business again. "We are going to manage this business in an entirely new way," says Bronfman.
FOR ONE THING, Bronfman's company will be privately held, relieving it from the relentless scrutiny of having to hit the numbers every quarter. That should also allow Bronfman to force a more painful restructuring than Time Warner was willing to undertake. For Time Warner, such a restructuring would have meant huge charges against the media giant's earnings at a time it could ill afford such steps following its disastrous merger with America Online Inc.
Bronfman and his team aren't talking publicly yet about how they might recast the existing business. But they have several cost-saving options open to them. Warner Music Group CEO Roger Ames has already reduced headcount in four years from 7,000 to 5,000 but says "we still have plenty of places to cut." Consolidating record labels, perhaps Atlantic and Elektra, could save a few more bucks. So could pulling out of lagging overseas markets. Last, insiders say Bronfman believes that the Warner/Chappell Music Inc. publishing unit that is included in the deal will throw off enough cash flow from its million copyrighted songs to provide a buffer while he tackles the ailing recorded-music side.
BUT THE BIGGEST cost savings of all may come if Bronfman is willing to preside over "some creative destruction of the business," as one investment banker puts it. The place he must start, say some executives, is with bloated artist deals, such as those exemplified by Sony Music Entertainment Inc.'s $100 million long-term deal with Michael Jackson or the $80 million EMI Group PLC paid Mariah Carey for a four-record contract. Warner Music may soon have to contend with a costly deal of its own: its longstanding partnership with Madonna and her Maverick Records. Throughout the industry, execs are considering moving to contracts that are tied more closely to performance rather than "deals based on what you hope [the artists] will sell," says Danny Goldberg, founder of independent label Artemis Records. Adds longtime industry lawyer Christian L. Castle of Akin Gump Strauss Hauer & Feld LLP's Los Angeles office: "You can't sign folks to five-album deals when these days they may not have five albums in them." But while some close to Bronfman argue that he must head in that direction to succeed, for now such a shift is far from certain.
Even if he trims costs in such a bold way, that alone won't do the trick. Bronfman, who in the 1990s created the world's largest music company -- Universal Music Group -- through the acquisition of Polygram, is also counting on an end to the industry's slide. Some faint signs of hope are starting to appear: Piracy dropped 11% from August to September as the record industry began its much-publicized legal crackdown, says market researcher NPD Group Inc. And with a slew of new legit services from the likes of Microsoft (MSFT ) Corp. and Sony (SNE ) Corp. coming online to compete with Apple Computer (AAPL ) Inc.'s popular iTunes store, a new revenue source is emerging. Those developments helped nudge Bronfman's heavyweight backers, including Thomas H. Lee Partners, Bain Capital, and Providence Equity Partners, into the deal.
It's a risky assumption -- and a controversial one. Plenty of skeptics see no such turn in the offing. Much will depend on whether the era of "free" is finally over. The only certainty: No one has more riding on the music industry's comeback than Edgar Bronfman Jr., his investors, and his tarnished reputation.
By Ronald Grover and Tom Lowry
Before it's here, it's on the Bloomberg Terminal.
LEARN MORE