Windows On A Phone: Not Bad For A First Foray
Motorola's phone with Microsoft software is on par with rivals
Microsoft (MSFT ) has finally made it into the wireless handset business. The Motorola (MOT ) MPx200 ($300, with service from AT&T Wireless (AWE )) is the first product based on Windows Mobile Software for Smartphones to hit the U.S. market. It's a pretty good phone, but Microsoft's entry is not likely to send Motorola's rivals, especially Nokia (NOK ), scrambling for cover.
Smart phones, which incorporate many features of a Palm or Pocket PC into a phone-size package, are a hot segment of the market. Microsoft's effort has been troubled by stormy relations with manufacturing partners, but Europeans got their first glimpse of the company's smart phones last year when European mobile giant Orange began selling phones using the software. Motorola's MPx200 and the Samsung i600 from Verizon Wireless (VZ ) are the first from top-tier handset makers.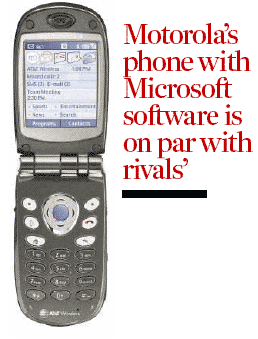 A key goal was seamless integration with desktop Windows. And sure enough, the familiar Windows flag waves when you turn on the MPx200. But Microsoft avoided the mistake of trying to create a miniature version of Windows for a phone. I found the Smartphone interface to be an improvement over anything Motorola has offered in the past, but that's not a very high standard. MPx200 is really no better and no worse than other smart phones such as the Nokia 3650 or the Sony Ericsson (ERICY ) P900, both of which are designed to run the Symbian operating system.
THE WINDOWS SMARTPHONE USES the same ActiveSync software as the Pocket PC to synchronize data with a computer. But rival products offer their own sync software and, while ActiveSync works well, you must run Microsoft Outlook on your computer. In my experience, Palm's HotSync, used with the palmOne (PLMO ) Treo 600, is easier, more flexible, and does at least as good a job of syncing with Microsoft applications.
The MPx200 looks like one of Motorola's popular V-series flip phones, with a bright, nearly 2-inch-long color display and no external antenna. It comes with what has become the standard complement of buttons for a high-end phone: a 12-key number pad, a controller that lets you navigate functions on the screen, buttons to begin and end calls and move back and forth among tasks, and so-called soft keys that have different functions, depending on the phone. (The right-hand soft key usually brings up additional commands). On the left side, there's a jog wheel that can be used to scroll through screens of data, such as contact lists or messages; in voice mode, it controls volume. The phone also features Windows Media Player for music or video, with a slot for a memory card. Motorola, alone among the top phonemakers, has yet to get a camera-equipped phone to market, so the MPx200 lacks that increasingly popular feature.
One area where the Smartphone outdoes most competitors is e-mail. You can fetch mail from any standard Internet account, and it's fairly easy to select an address from your contact list by tapping out the first couple of letters of a name. Because the only way to enter data is by tapping away on the telephone dial pad, you're probably not going to be composing long messages, but it is a handy device for reading mail on the go.
It gets better if your business mail system is Exchange and your employer is running Microsoft's Mobile Information Server. Then your phone not only will get mail delivered to it automatically, but contacts, calendar items, to-dos, and other information will stay synchronized over the air.
Personally, I prefer the Treo 600, which does everything the Smartphone does at least as well and has a keyboard and a bigger display. But it is substantially bigger and costs more than twice as much. If you want something more phonelike that fits more easily into your pocket, the MPx200 is a good choice.
By Stephen H. Wildstrom
Before it's here, it's on the Bloomberg Terminal.
LEARN MORE