U.S.: Some Smooth Sailing Before Inflation Blows In
Excess factory capacity and labor will keep the pressure off prices -- and rates
It happens every time the economy shows signs of sustainable sizzle: The inflation hawks start circling overhead. After all, solid demand enables businesses to push through price increases, right? Already, commodity prices are up 18% from a year ago, retailers are planning fewer discounts this holiday season, and gold prices are soaring. Before you know it, bond yields will jump and the Federal Reserve will be hiking short-term interest rates to hold back inflation's fury.
Or maybe not. Economic fundamentals argue that any rise in inflation will be quite slow and won't appear until well into 2004. True, the latest data, from industrial activity to retail sales to exports, show the economy is growing at a healthy pace this quarter and will continue to do so. But there's enough excess in the system that large price or wage pressures are unlikely to build soon.
Rising commodity prices reflect growing industrial demand in areas outside the U.S., particularly China and Southeast Asia. And U.S. trade with China has led to lower, not higher, prices. Plus, investors are bidding up safe-haven investments like gold mainly as a hedge against terrorism, not as inflation insurance.
Moreover, there's still some risk that inflation will slow further. Because of the lingering excesses created by a recession, price pressures lag overall economic activity. That's why some Fed officials remain vigilant against deflation. Partly because of those deflation concerns, the Fed is likely to tolerate some pickup in inflation over the coming quarters. After all, they've never had so much leeway before: The October consumer price index showed no gain, and the core index, which excludes food and energy, rose only 0.2%. Over the past year, all consumer prices are up just 2%, and core inflation is a mere 1.3%.
Given how precarious this recovery has been, policymakers won't rush to hike rates. That means companies will enjoy more pricing power in 2004, providing added thrust to corporate profits and boosting the stock market. Put it all together, and the economy is set to enjoy the best of two worlds: strong economic growth and continued low inflation.
THE FIRST PART OF THAT MIX -- strong economic growth -- is evident in the latest set of data. Although real gross domestic product is not growing at the breathless 7.2% annual rate of the third quarter, it still appears to be powering ahead at a pace of about 3% this quarter.
Consumers are in particularly good shape heading into the holiday shopping season, thanks to the continued push from tax cuts and mortgage refis coupled with renewed job growth. Although October retail sales dipped 0.3%, that reflected a fall in vehicle buying, which continues to whipsaw the consumer data as a result of the on-again, off-again nature of rebates. For example, soaring car sales in the third quarter accounted for about two percentage points of the quarter's 6.6% surge in consumer spending. The falloff in car sales has already put outlays for the entire fourth quarter into a hole, and spending will grow only in the 1% to 2% range.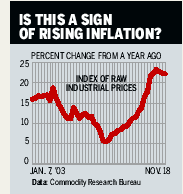 Nevertheless, consumer spending will most likely be much stronger at the end of the quarter than at the beginning. Outside of cars, October store receipts advanced by 0.2%, the sixth monthly gain in a row. Excluding a price-related drop in gasoline purchases, retail sales were up a healthy 0.4%. And since Detroit has reintroduced cheap financing, look for car sales to rebound in November and December.
GROWTH WILL GET A FURTHER BOOST from the industrial sector, especially now that companies are restocking empty warehouses and store shelves. Inventories held by manufacturers, wholesalers, and retailers grew 0.3% in September, the first gain since March. Store inventories jumped 1%, or 0.8% excluding cars. Overall in the third quarter, inventories shrank, subtracting two-thirds of a percentage point from real GDP growth. If inventories only rise a bit from the third quarter's level, they would add two points to GDP growth.
This inventory adjustment, along with the recovery in capital spending, will sustain the current turnaround in manufacturing. Total industrial production increased in October by 0.2%, the fourth gain in a row. Excluding cars, manufacturing production was up a strong 0.4%.
A big chunk of the factory gain came from the output of high-tech equipment. It surged 2.5% and is up 20.6% from a year ago. Companies are finally bulking up, and that expansion will continue in 2004 amid stronger demand, rising profits, and low interest rates.
Yet despite the uptrend in demand, the economy seems in little danger of overheating. That's because the 2001 recession and lackluster recovery so far created an overhang of labor and capacity that must be used up before wage and price pressures begin to build. In October, the jobless rate stood at 6%, while the industrial sector was using only 75% of its available capacity. In a speech on Nov. 18, San Francisco Fed President Robert T. Parry said: "Given that slack, I think there's still room for some pretty strong growth before the risk of inflationary pressures becomes a primary concern."
SO WHAT DO WE MAKE of all the inflation signals that are now flashing yellow? While some prices are certainly rising, it's important to keep in mind that old rules don't always apply in this new millennium.
Take gold. Holding precious metals was always viewed as a hedge against a runup in inflation. But gold prices trended lower and lower in the 1990s, even during the boom years in the decade when the Fed and the bond market grew concerned about price pressures. Gold prices hit a low in 2001, near the time of the September 11 attacks, and have been rising since, as terrorism fears and war jitters have increased. That suggests precious metals are now seen as a guard against geopolitical uncertainty.
Of course, there is no question that commodity prices are rising. According to the Commodity Research Bureau, costs for raw industrials have risen 22.2% in the year ended in mid-November. The price of foodstuffs grew 11.6%. Prices are being lifted by the industrial boom going on globally, especially in China.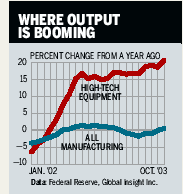 What must be kept in mind, however, is that raw material costs make up a shrinking share of the cost of producing goods and services in the U.S. More important is the cost of labor, and there the news is anything but inflationary.
Thanks to surging productivity, unit labor costs have been falling throughout this recovery. In the third quarter, unit costs were down 1.9% from a year earlier. Since labor costs are about three-quarters of all business costs, falling unit costs will reduce the need for businesses to raise prices. Instead, their pricing goal will be to boost profits. And the Fed will tolerate some pricing power to lift margins because rising profits will keep the capital-spending rebound going.
That is not to say that the Fed won't at some point step in to preempt price pressures. But right now, with wage demands subdued and a quarter of industrial capacity idle, that point seems a far way off. And all those flying inflation hawks will just be flapping at windmills.
By James C. Cooper & Kathleen Madigan
Before it's here, it's on the Bloomberg Terminal.
LEARN MORE