Options Grow Onerous
Expensing is forcing companies to rethink employee pay perks
It was just three years ago that the economy seemed to be one big bash, with stock options handed out like so many party favors. Many companies couldn't dole them out fast enough -- their generosity encouraged by options' favorable accounting treatment. In 2000 alone, Bear, Stearns (BSC ) & Co. figures companies on the Standard & Poor's 500-stock index awarded a staggering $126 billion in options, more than the 2002 gross domestic product of Ireland. Amid the boom, options made many senior executives -- and quite a few members of the rank and file -- rich, at least on paper.
The dot-com bust, the recession of 2001, and the corporate crime wave and accounting scandals of 2002 brought the party to an unceremonious end. And any thoughts that the rebounding economy will give options new life should be immediately forgotten. On Oct. 29, the Financial Accounting Standards Board proposed ending in 2005 the special treatment options have enjoyed for decades. Barring an unlikely 11th-hour reprieve from Congress, in a little over 12 months, companies will be forced to account for options as an expense. What's more, unvested options from prior years -- not just new grants -- will have to be expensed, resulting in a much bigger hit to earnings than most imagined.
That means companies won't be able to issue one large option grant in 2004 to tide workers over for a few years. "Six months ago, people thought maybe [we'd] get one last hurrah," says Ira T. Kay, director of compensation consulting at Watson Wyatt Worldwide. "Now it's very clear there's going to be an expense in 2005 for 2004 grants."
The result, pay experts say, will be a scramble over the next few months as companies frantically rework their 2004 pay plans to avoid a massive hit to earnings in 2005. If businesses make no changes to current options-grant programs, UBS Warburg estimates, expensing would reduce S&P 500 earnings by an average of $3 to $4 per share in 2005 -- roughly a 5% slice off estimated average earnings of $65.
To avoid that, companies will be making options scarce. Watson Wyatt estimates that options granted by S&P 500 companies will decline by $10 billion, to $60 billion next year -- nearly a 15% drop. Over the next three to five years, grants could fall an additional $30 billion. "Everybody's been thinking, 'What are we going to do?"' says Philip R. Lochner Jr., a compensation committee member at GTECH Holdings (GTK ) Corp., which supplies computer terminals and services for state lotteries. "People need to make some decisions."
While top execs may get smaller grants, many companies will probably also have to strip lower-level employees of their option privileges to make a significant dent in expenses. Some have already begun. Two years ago, Dell Inc. began trimming option grants across the board. The cutbacks, a response to both the weak labor market and the need to reduce compensation costs in anticipation of expensing, are accelerating: This year, Dell expects to award about 40 million options, roughly half those granted in 2002.
Pay consultants expect many other companies with broad-based plans to reduce the number of employees eligible to receive awards, cut back on the options granted, or both. Such moves could hit especially hard in the tech sector. A new survey by Deloitte & Touche found that 55% of publicly traded tech outfits will restrict eligibility, while 60% said they planned across-the-board reductions in grants. Says Jeffrey Peck, an anti-expensing lobbyist for the Washington (D.C.)-based International Employee Stock Options Coalition: "If you're a rank-and-file worker, your future is going to look remarkably different, and worse."
LOBBYING FOR `VITALITY'
Not all companies are resigned. A powerful Silicon Valley contingent that stands to take the biggest hit to earnings if expensing becomes a reality -- including Intel (INTC ) Corp. and Sun Microsystems (SUNW ) Inc. -- is stepping up lobbying against expensing, saying it will stifle innovation and threaten the survival of young companies. "The economic harm of stock-option expensing cannot be overstated," Intel CEO Craig R. Barrett told a House subcommittee in June. "At stake is the future strength and vitality of the American economy."
Silicon Valley's best hope in coming months is to try to sell its own version of options accounting reform to FASB, which will formally issue a proposed rule early next year and a final rule in late 2004. Between now and then, tech companies might be able to influence the choice of valuation methods used to calculate option expenses -- which could minimize the impact on their bottom lines -- or exemptions for new public companies.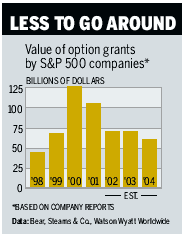 Tech execs aren't likely to get much help from Congress, at least immediately. A bill that would ban expensing has 94 House co-sponsors, but a separate anti-expensing measure has languished in the Senate since May. A third bill, introduced on Nov. 19 by Senator Michael B. Enzi (R-Wyo.), would limit expensing to options granted to a company's five highest-paid executives. It would also allow newly public companies to avoid expensing options for three years. Anti-expensing forces think the Enzi bill could become the focus of a compromise. But that effort may stumble in the Senate, where Banking, Housing, & Urban Affairs Committee Chairman Richard C. Shelby (R-Ala.) opposes any intervention in FASB's deliberations.
Other companies see the writing on the wall and are hatching new plans to curtail expensing costs. Since options with a longer term are assigned a higher value in the widely used Black-Scholes options-pricing formula, some companies have begun issuing options that expire short of the traditional 10-year life span. Bank One (ONE ) Corp., which began expensing in 2002, issued six-year options in August. It has also eliminated "reload" grants -- options that are automatically awarded to replace those that have been exercised -- and reduced both the number of options awarded and the executives who got them. Says CEO James Dimon: "We're being a little bit more judicious."
MORE STOCK GRANTS IN '04?
Others are following the example of General Electric (GE ) Co. or Microsoft (MSFT ) Corp., which scrapped its option program last July in favor of stock grants. In addition to retaining some value in a down market -- a benefit employees came to appreciate during the long bear slide -- such grants allow companies to award fewer shares, reducing earnings dilution. And once options expensing begins, the two forms of pay will both be treated the same way on the books. As a result, the use of stock is expected to accelerate in 2004. Says a director who sits on the compensation committee of one of the country's biggest high-tech outfits: "We are certainly considering moving to restricted stock, perhaps in combination with options."
Employee stock-purchase plans are also likely to take a hit, since companies will have to start deducting the cost of such plans from earnings. Nearly 15 million employees at 4,000 companies participate in these plans, which allow workers to buy company stock at a discount. To reduce costs, companies are expected to cut back on the discounts and limit maximum contributions or eliminate the programs altogether. Several companies have made such changes, including Bank One and Citigroup (C ). At Mellon Financial Corp. (MEL ), which began expensing on Jan. 1, a 15% discount on company stock has been slashed to 5%, and participation in the plan has dropped.
There's little doubt that options played a big role in the 1990s boom and may help lift the economy yet again. But if mandatory expensing becomes a reality, boards will no longer be able to hand them out with abandon. If that forces companies to think long and hard about new and better ways to motivate workers, so much the better.
By Louis Lavelle in New York, with Amy Borrus in Washington, Robert D. Hof in San Mateo, Calif., and Joseph Weber in Chicago
Before it's here, it's on the Bloomberg Terminal.
LEARN MORE