Currency Markets: Is The Dollar In The Danger Zone?
The depreciation of the dollar, which began in early 2001, picked up speed on Nov. 18, as it plunged to a record low of $1.1953 vs. the euro. The drop raises new fears that the greenback's decline could turn into a rout, posing risks on both sides of the Altantic.
The latest slide comes amid signs that foreign investors are rebalancing their portfolios away from U.S. securities. The latest Treasury figures showing that net capital inflows into the U.S. fell broadly from $49.9 billion in August to a mere $4.2 billion in September unnerved currency traders. "The data refuel lingering doubts over the U.S.'s ability to finance its growing trade deficit," says Ashraf Laidi, chief currency analyst at New York forex trading house MG Financial Group.
Currency strategists say investors' reluctance to buy U.S. securities in September was in part a reaction to a statement from the Group of Seven finance ministers calling for "more flexibility in exchange rates," which was widely interpreted as favoring a weaker dollar. The fear: that investor unwillingness to buy bonds and stocks stateside will increase, hurting the dollar further.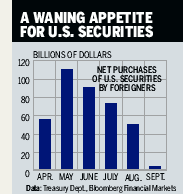 According to John Calverley, chief economist at American Express Bank in London, capital inflows into the U.S. will likely remain less than what is needed to finance the U.S. current-account deficit. One reason: Despite strong U.S. growth, investors can get better returns from undervalued Asian stocks or higher-yielding European bonds than from U.S. securities.
Currency traders also worry that the U.S. Administration's decision to slap quotas on Chinese apparel imports could escalate into a trade war, which would damage the greenback, because it is used to finance the lion's share of world trade. The U.S. has already irked the Europeans and Japanese by imposing tariffs on steel imports.
Although the dollar recovered a bit on Nov. 19, most currency watchers expect it to trend down to $1.23 to $1.25 by yearend. They don't see a rout unless the central banks get involved, but the dollar now seems increasingly vulnerable to surprises that could trip up the U.S. recovery.
By David Fairlamb in Frankfurt
Before it's here, it's on the Bloomberg Terminal.
LEARN MORE