Cable Giants May Want In On NTN's Games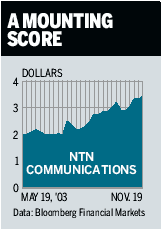 Tiny NTN Communications (NTN ), a provider of interactive TV shows to homes and hotels, has caught the eye of Time Warner and Comcast. In October, Comcast (CMCSK ) agreed to distribute NTN's sports and trivia games in two Maryland counties. Time Warner (TWX ) is pilot-testing programs in Portland, Me. "They've been well received there and at Susque-hanna Communications stations in York and Williamsburg, Pa.," says Casey Stern of Starr Secur-ities, who rates NTN a buy. The stock, up from 1.88 in May to 3.48 on Nov. 19, could hit 10 in 18 months, he says. NTN broadcasts to 3,171 sites. At each one, subscribers use handheld wireless Playmaker devices for games on TV screens. NTN runs its programs 15 to 17 hours a day. NTN makes its money from ads and licensing fees. Comcast or Time Warner could take NTN national. Satellite outfits such as DirecTV may also opt for NTN. "When that happens, business will explode," says Stern. One money manager who owns shares sees NTN in the black in 2005, on sales of $600 million, based on 20 million subscribers. Sales in 2002 were $25.6 million. Media General (MEG ) owns 5.6% of the stock.
Note: Unless otherwise noted, neither the sources cited in Inside Wall Street nor their firms hold positions in the stocks under discussion. Similarly, they have no investment banking or other financial relationships with them.
By Gene G. Marcial
Before it's here, it's on the Bloomberg Terminal.
LEARN MORE