Australia: Careful Of That Rate Hike, Mate
The Reserve Bank of Australia has begun the fight to preempt any rise in inflation. But its hike in interest rates is not without risks.
On Nov. 6, the RBA lifted its policy rate by a quarter-point, to 5%, and indicated the move, the first in 17 months, would not be the last. In its policy statement, the RBA said the need for an expansionary monetary stance had now passed, since demand was picking up and the risks for higher inflation were greater than the odds of smaller price rises.
The economy's better outlook is a switch from its performance since late 2002, when noneconomic factors curbed growth. A severe drought slowed agriculture output. The SARS epidemic cut exports to Southeast Asia, and, together with the U.S.-Iraq war, hurt tourism. As a result, real gross domestic product grew at an annual rate of only 2% over the past three quarters.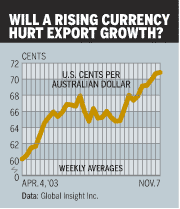 Now the economy is on track to grow by more than 3%. Australia is hosting the 2003 Rugby World Cup, which will lift real GDP growth this quarter. In October alone, 69,200 jobs were added, most of them at stores and hotels catering to rugby fans, with the jobless rate falling to a 14-year low of 5.6%. Plus, monthly data show retail sales and car purchases up strongly in the third quarter. Australian exports rose in August and September, with shipments to Hong Kong and Japan up by double digits.
The danger, however, is that by moving before other central banks, the RBA is pushing up the Aussie dollar, and that could slow export growth. Since early September, when policymakers first hinted at a rate hike, the dollar has jumped 12% vs. the U.S. dollar, to a six-year high. The RBA must ensure that further hikes don't pump the Aussie dollar so high that exports become uncompetitive while world growth speeds up.
But at the same time, the RBA wants higher rates to slow the runup in home prices, which has triggered a flood of refinancings and home equity loans. Home values jumped 18% in the year ended in the second quarter, and home loans were growing 19% by September. The RBA knows a collapse in the housing market would cause a drop-off in consumer spending and probably would ruin the finances of many households.
By James C. Cooper & Kathleen Madigan
Before it's here, it's on the Bloomberg Terminal.
LEARN MORE