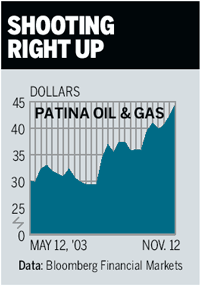 How much higher can Patina Oil & Gas (POG ) fly? Its shares have shot from 30 in May to 44.54 on Nov. 12, and some worry they might get clobbered if energy prices tumble. But Stephen Leeb of Leeb Capital Management, author of a new book, The Oil Factor, says oil and gas prices will climb over time and that low-cost producer Patina is a "compelling" play. Leeb, who owns shares, sees the stock at 60 in a year. Even if natural gas prices drop -- from $5 per 1 million BTUs to $3.50, say -- Patina's earnings will keep growing, he maintains. Output and reserves are on the rise, because Patina extracts fuel so cheaply. Its properties are in Colorado's Wattenberg Field, in southern Oklahoma, and in the Texas Panhandle. Leeb sees Patina upping production more than 15% a year -- for five years. It generates strong cash flow to fund acquisitions. In October, Patina bought a big stake in Denver's Cordillera Energy Partners, which has vast natural gas reserves. Earnings should hit $3.11 a share in 2003 and $3.95 in 2004, up from $1.75 in 2002, says Brad Beago of Crédit Lyonnais Securities, who has an "add" rating on the stock. He owns shares, and Lyonnais has done banking for Patina. Beago says Patina's "low-risk" operations make its outlook "predictable."
Note: Unless otherwise noted, neither the sources cited in Inside Wall Street nor their firms hold positions in the stocks under discussion. Similarly, they have no investment banking or other financial relationships with them.
By Gene G. Marcial
Before it's here, it's on the Bloomberg Terminal.
LEARN MORE