A missing piece of Japan's recent economic recovery is beginning to fall into place. Large goods-producing exporters had been the driving force behind the revival. But now, small businesses, a key component of the domestic economy, are showing signs of a turnaround.
Although small companies are still cutting jobs and unwanted production capacity to become more competitive, they have a rosier outlook. The Shoko Chukin Bank's October index of small-business confidence came in at 49.1, a slight decline from September. But the respondents forecast a rise next month to 49.8, which would be the best reading since 2000 (chart).
The growing optimism among small businesses could fuel the nascent capital equipment replacement cycle. Investments to upgrade aging equipment are expected to rise 17.4% in the fiscal year ending in March, says Tetsufumi Yamakawa, an economist at Goldman, Sachs & Co. (GS )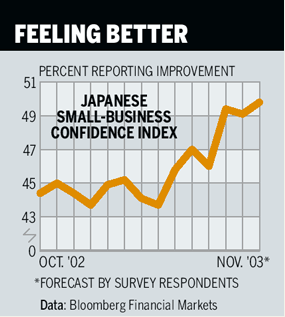 Typically, capital investments are initially paid with earnings, but as time goes on they are financed with more debt. That process appears to be playing out with small businesses. The Bank of Japan's latest quarterly survey of senior loan officers at large banks shows a sharp improvement in loan demand by small businesses. Banks seeing rising loan demand are just about even with those reporting declines. That is far better than at any point in the past three years for companies of any size.
Japanese banks do remain financially vulnerable, but improving loan demand would be a big plus. With the BOJ expected to keep interest rates at 0% for now, lenders should have plenty of yen on hand. If banks lend wisely to financially sound companies, making loans would be a better option than putting funds in low-yield government bonds.
Improved corporate balance sheets and reductions in nonperforming loans held by banks should also help stimulate credit demand. If so, it would provide "a major impetus for circulating excess liquidity back into equity markets and the real economy," says Yamakawa. That would set the economy up for a more balanced and sustainable recovery.
By James Mehring in New York
Before it's here, it's on the Bloomberg Terminal.
LEARN MORE