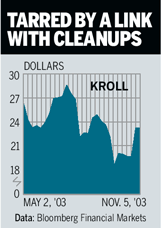 Since the first rule of investigators is to keep mum about their work, it's not surprising Kroll (KROL ) is little understood. A detective agency 30 years ago, Kroll has grown into a $500 million-a-year mix of investigative, accounting, and restructuring services. But Kroll has recently been typecast as a play on corporate restructurings -- a business expected to cool as the economy warms, notes Tucker Walsh of the State Street Research Emerging Growth Fund, which owns the stock. Walsh says the market isn't taking account of Kroll's diverse nature. As the economy picks up, he says, so will Kroll's revenues from scrutinizing new employees and checking for dirt in corporate takeover targets and initial public offerings. Figuring Kroll's earnings will grow 15% to 20% a year in good times and bad, Walsh says the stock is a buy at its current 23, or 16 times First Call's consensus estimates of 2004 earnings. Kroll is also reeling in forensic-accounting business that Uncle Sam is pushing audit firms to give up. And it has bought an e-mail retrieval outfit that caters to big law firms. Walsh says the stock will hit 35 in a year. Peter Barry, an analyst at Bear Stearns (BSC ), which has done banking for Kroll, has a price target of 29 by yearend 2004.
Note: Unless otherwise noted, neither the sources cited in Inside Wall Street nor their firms hold positions in the stocks under discussion. Similarly, they have no investment banking or other financial relationships with them.
By David Henry
Before it's here, it's on the Bloomberg Terminal.
LEARN MORE