Sharks May Be Lurking Around Frisco Bay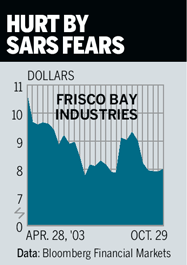 When shares of Frisco Bay Industries (FBAY ) dropped to around 7.50 in late September, down from 12 in April, rumors swirled that a big U.S. company and a European conglomerate had come knocking on Frisco's door -- asking whether it was open to a buyout. Based in St. Laurent, Que., Frisco provides security systems for government agencies, financial institutions, and industrial plants in the U.S. and Canada. Frisco's second-quarter results suffered as the SARS epidemic hurt business in parts of Canada for five months.
CEO Barry Katsof, who controls 42% of the stock, wouldn't comment on buyout speculation. But Scott Zimmerman, who heads Z Capital Management, which controls more than 5% of the stock, says he doesn't doubt that some companies want to buy Frisco. It has built up recurring revenues based on long-term contracts, says Zimmerman, and expects it will post an upside surprise in the third quarter, and have a robust fourth quarter. He thinks the stock, now at 8, will rise to the mid-teens in a year. Katsof says Frisco for the fourth quarter has a $50 million order backlog. Sales in fiscal 2003 ended Jan. 30 totaled $51.3 million. He figures 2004 sales will hit $54 million despite SARS and rise to more than $60 million in fiscal 2005. Operating earnings in fiscal 2003 were $1.27 a share. One insider figures fiscal 2004 earnings will rise 5%, on increased shares, and leap 10% in fiscal 2005.
Note: Unless otherwise noted, neither the sources cited in Inside Wall Street nor their firms hold positions in the stocks under discussion. Similarly, they have no investment banking or other financial relationships with them.
By Gene G. Marcial
Before it's here, it's on the Bloomberg Terminal.
LEARN MORE