Spectrum's New Cancer Weapons
By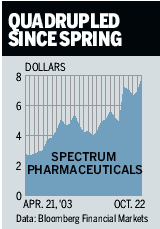 Several big investors have been buying little-known Spectrum Pharmaceuticals (SPPI ), which develops anticancer agents that have previous clinical data to back their efficacy and safety. SDS Capital and SCO Financial Group each have a 10% stake, and Barclays Bank owns more than 6%. Institutional interest boosted the stock from 2 in March to 7.87 on Oct. 22. Spectrum has lots more potential, says Daniel DiPietro of SCO Financial, even though no analyst follows it. Last year, it signed a pact with Germany's GPC Biotech to co-develop Satraplatin, a medication for prostate, ovarian, and small-cell lung cancer. Satraplatin had been owned by Bristol Myers-Squibb (BMY ), which decided not to go ahead with development. Spectrum picked it up for $250,000. GPC paid Spectrum $2 million upon signing and a further $2 million on Oct. 13, when Phase 3 clinical trials of Satraplatin began. GPC will pay $18 million more as regulatory targets are met. CFO John McManus says the drug has a potential market of $500 million a year. Spectrum has $25 million in cash and McManus expects Spectrum to make money in 2006.
Note: Unless otherwise noted, neither the sources cited in Inside Wall Street nor their firms hold positions in the stocks under discussion. Similarly, they have no investment banking or other financial relationships with them.
Gene G. Marcial
Before it's here, it's on the Bloomberg Terminal.
LEARN MORE