Handhelds Are Clicking
By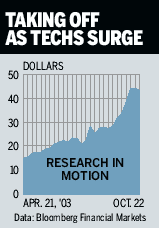 Bernie Schaeffer, who runs Schaeffer's Investment Research, is hot on techs -- even after their huge rally. Investors are rubbing their eyes, "unconvinced that techs are really back," he says. The euphoria of the '90s is still not in sight, so he reckons techs have room to run. Schaeffer's "master portfolio" this year is up 44.5%, vs. 18.9% for the Standard & Poor's 500-stock index. His top pick, Research in Motion (RIMM ), which makes wireless handhelds such as the BlackBerry, is way up -- from 10 in March to 43.75 on Oct. 22. Although it is trading at 91 times estimated Thomson First Call's consensus 2004 (ending Feb. 28) earnings of 47 cents a share, he expects a price of 75 in a year. RIM's market cap, he notes, peaked in 2000 at $13.5 billion, when the stock hit 176. Now it's about $3.4 billion. He sees BlackBerry demand rising. RIM has licensed its technology to cell-phone makers, including Motorola and Sony Ericsson (SNE ) for e-mail and text messaging. The latest BlackBerry, notes Schaeffer, functions as a phone in addition to e-mail. RIM has also integrated BlackBerry into the Microsoft Exchange Server 2003. The company raised its third-quarter earnings estimate -- after posting better-than-expected second-quarter profits. Thomas Sepenzis of ThinkEquity Partners sees earnings of 47 cents, on sales of $535 million, in 2004, and 97 cents, on $619 million, in 2005, vs. a loss in 2003.
Note: Unless otherwise noted, neither the sources cited in Inside Wall Street nor their firms hold positions in the stocks under discussion. Similarly, they have no investment banking or other financial relationships with them.
Gene G. Marcial
Before it's here, it's on the Bloomberg Terminal.
LEARN MORE