Argentina: Playing Hardball With Creditors
Bondholders meet with Argentine officials in New York and six other cities in the U.S., Europe, and Japan this week. The talks will revolve around Argentina's call for a draconian 75% reduction in the principal of $87 billion in defaulted bonds. While the languages spoken will vary, the creditors' ultimatum will be the same: Improve the offer, or prepare to be frozen out of capital markets indefinitely.
Nobody expects a breakthrough. That includes Economy Minister Roberto Lavagna, whose hardball tactics have set the stage for protracted negotiations with creditors. Lavagna has every reason to feel emboldened. Argentina's aggressive debt-forgiveness proposal has the implicit blessing of the International Monetary Fund. The IMF set few conditions and accepted generous fiscal targets, compared with other recent defaulters, in rolling over $12.5 billion of debt in September.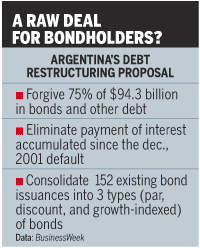 There are also few economic reasons to back down. Despite scant direct investment from abroad, the economy is roaring. Growth is expected to hit 7% this year vs. an original 3% forecast. And the local stock exchange is rallying on the strong growth. On Oct. 20, the Merval broke its all-time high set in 1992.
If it weren't for the insistence of its lawyers, Argentina might not even be meeting with bondholders. Analysts say Lavagna is going through the motions to avoid paying plaintiffs in several rulings against Argentina in the U.S. and Germany. One U.S. court, which ruled in favor of investor Kenneth Dart for $700 million, is letting Argentina hold off paying him as long as it shows an effort to reach an amicable settlement. Since Argentina has few seizable assets abroad, there's not much the plaintiffs can do but be patient.
Lavagna says that under the proposal Argentina won't need to return to the international finance markets for three to four years. With growing trade and fiscal budget surpluses, Argentina can fend for itself right now. That means creditors' best hope for a sweeter offer is unlikely to come until growth cools, and Argentine businesses demand access to credit and investment.
By Joshua Goodman in Buenos Aires
Before it's here, it's on the Bloomberg Terminal.
LEARN MORE