U.S.: A Jobs Recovery, Yes. A Hiring Boom, No.
Intense cost pressures and weak pricing will keep payrolls from surging
It's about time. The news that the labor markets might finally be turning around certainly elicited sighs of relief from the millions of job seekers who have been unable to find work despite two years of so-called economic recovery. The Labor Dept.'s report of a small gain of 57,000 jobs in September also raised spirits on Wall Street, where investors saw the first real evidence of hiring in nearly a year as a sign of sustained momentum in the economy. And the news was undoubtedly greeted with relief at the White House, which does not want the lack of new jobs to be a campaign issue in 2004.
The net gain in payrolls last month was widely unexpected, with most economists looking for another drop. Nevertheless, the details of the report, from the breadth of job increases to the smallest losses in the long-suffering manufacturing sector in more than a year, strongly suggest that the jobless recovery is coming to an end. That notion is also supported by growing evidence that overall demand by consumers and businesses is now shifting into a higher gear.
But the next step in the job revival will be the most difficult. Hiring must now rise to a pace that will assure a self-sustaining economic expansion, where new jobs generate demand that encourages businesses to expand, creating even more hiring. On that front, the data are not yet so encouraging.
THAT'S BECAUSE STRUCTURAL changes within the labor markets will make it harder for job creation to pick up strongly, even if real gross domestic product grows at a solid clip. Companies face unusually intense cost pressures that were rare or nonexistent in prior upturns. Global competition, soaring health-care expenses, and the need to restore pension fund assets are eating away at profit margins at the same time that businesses have little pricing power in a low-inflation economy.
In response, businesses have rethought the way they use their workforce to get more output from less labor. The result has been improved margins, but also a more pernicious "jobless recovery" than the one following the 1990-91 recession.
Economists at the Federal Reserve Bank of Kansas City examined how businesses rely on flexible labor inputs to align their payrolls with production. They say that temp workers, part-time employees, and work-time management have allowed companies to delay hiring full-time workers. They also note that a greater number of job losses in this business cycle are permanent.
In addition, companies are using technological advances to keep productivity growing. Little wonder, then, that even with the September job gain, payrolls are down by more than a million since this recovery began.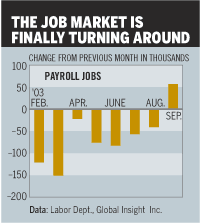 In the long run, faster productivity growth is undeniably positive. But in the coming year, companies' continued reliance on efficiency will work against a rapid return to strong hiring. Suppose real GDP grows at a healthy 4% pace. That growth must come from some combination of productivity gains and additional labor. For job growth to pick up to a normal recovery pace of greater than 200,000 per month, or about a 2% rise, productivity growth, which has averaged 4.5% in this recovery, will have to slow to less than 2%.
True, productivity always slows as a recovery matures. But since companies see efficiency gains as the primary way to remain competitive and profitable, they aren't likely to allow productivity growth to slide that much. The upshot: Hiring will trail the pace after the 1990-91 recession. By the third year of that upturn, job growth averaged 268,000 per month. This recovery begins its third year in November, and payrolls look on track to grow only about 100,000 per month well into 2004.
BUT THE GOOD NEWS is that September job data show businesses are finally lifting payrolls again. In addition to the top-line job gain, 47% of private industries increased payrolls, the most in 2 1/2 years. Temp workers, who tend to be hired before businesses commit to permanent workers, increased by 33,000, the fifth advance in a row.
Even the beleaguered manufacturing sector looked less awful. The loss of 29,000 factory jobs last month was the smallest in over a year. And the factory workweek lengthened by 12 minutes, to 40.4 hours, suggesting a gain in September factory output.
Even so, hiring over the next few months won't be strong enough to bring September's 6.1% unemployment rate down. Payroll gains have to average about 150,000 per month for a sustained period in order to absorb the new entrants into the labor force, which will only hold the jobless rate steady.
If anything, unemployment might go higher. Faced with few job prospects, people have dropped out of the labor market. In September, the labor force participation rate -- the percentage of the population either working or seeking work -- fell to a 12-year low. But in the early stage of faster economic growth, more people tend to reenter the labor force looking for work, often unsuccessfully. The increase in job seekers may cause the jobless rate to rise at some point in the fourth or first quarters. The rate will eventually fall, but whether the drop will come fast enough to satisfy the White House remains to be seen.
ONE SURE THING is that companies will remain focused on reining in payroll costs. In the year ended in the second quarter, labor expenses grew 3.6%, almost equal to the 4% increase in revenues economywide, as measured by the dollar value of GDP.
Amid slack labor markets, companies have squeezed down the growth of wages and salaries, from 3.8% per year at the start of the recession to 2.6% in the second quarter. But over the same period, benefit costs have accelerated from 5% to 6.1% currently. The jump mainly reflects the double-digit pace of health- care programs, which are forecast to rise 12% in 2004.
On top of that, companies are dealing with huge pension fund losses as a result of the stock-market downturn and low interest rates. Fed Governor Susan Schmidt Bies noted on Oct. 8 that by the end of 2002, 90% of the defined-benefit plans of the Standard & Poor's (MHP ) 500 companies were underfunded by $200 billion.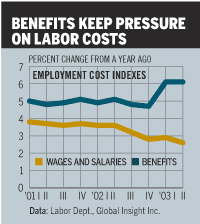 Despite these impending bills, the success businesses have had in cutting payrolls and holding the line on wage gains means labor's share of national income continues to fall this year, as profits' share keeps rising. This widening gap sets up a clash between the desires of the labor force and the investor class. Workers want bigger pay raises and job seekers want to see more hiring. Investors want businesses to concentrate on pumping up the bottom line and lifting stock prices.
History has shown that both can be satisfied, but only if demand growth accelerates to a point that enables the economy to accommodate both its productivity trend and the desires of job seekers. The positive surprise in the September data indicates businesses are starting to hire again. But in this upturn, don't expect a sharp turnaround in the job markets to happen overnight.
BY JAMES C. COOPER & KATHLEEN MADIGAN
Before it's here, it's on the Bloomberg Terminal.
LEARN MORE