Italy: Trying To Ease The Pension Squeeze
Is Italy getting serious about pension reform? Prime Minister Silvio Berlusconi has made it the focal point of his 2004 budget, even taking the unusual move of going on national television to plead his case. Berlusconi appears ready to go head to head with the unions, but he also faces opposition within his coalition government, especially from the Northern League party.
Beginning in 2008, Berlusconi's plan would require all workers to amass 40 years of pension contributions, up from 35 years, with penalties for early retirement. From 2004 to 2007, as an inducement to delay retirement, the plan would pay workers eligible to retire under existing rules a bonus of 32.7% of their salary, equivalent to the contributions they and their employers would continue to pay into the system. Unions, which are receptive to the work incentives but opposed to a longer contribution period and penalties, have set an Oct. 24 strike date to protest the proposal.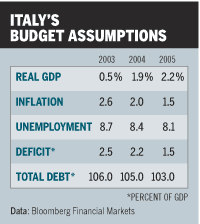 The driving force for reform is the growing financial reality of Italy's public debt, now totaling 106% of gross domestic product, which is draining private-sector funds and limiting tax and spending measures that could lift economic growth. The government is spending 5.7% of GDP -- more than 70 billion euros ($80 billion) -- per year just to pay interest, and the government's latest projections imply debt service above 5% through 2007.
The country's pension economics will start to deteriorate rapidly in coming years, as baby boomers begin to retire. Plus, Italy's low birth rate will leave precious few workers to support the new retirees. "The only option on the menu is a structural and sustainable reduction in pension spending," notes Vincenzo Guzzo in Morgan Stanley's London office.
Italy fell into recession in the first half of 2003, increasing pressure on government finances. The 2004 budget offers 16 billion euros in deficit cuts, few of which are either structural or sustainable. The measures should trim the budget deficit from 2.5% of GDP this year to 2.2% next year, keeping it safely within the 3% euro zone limit. But these relatively painless measures may be aimed at easing the way for more painful pension cuts.
Before it's here, it's on the Bloomberg Terminal.
LEARN MORE