U.S.: Housing: Still Solid, but Creaking a Little
Key first-time homebuyers look at steeper prices and mortgage rates
"A man's home is his castle" is an adage dying to be updated. Today, a home is also an investment fund, an ATM, and a tax deduction. For the economy as a whole, housing has been a catalyst for this recovery. Indeed, the sector continued to gain ground even while the rest of the economy slogged through a recession. And the latest data suggest home sales will set a new record this year while housing starts are running at a 17-year high. But housing's robust run may be coming to an end.
What that means for the economy is that housing will no longer be the bright spot that it has been over the past three years. For instance, in the first half of this year alone, residential construction, which is less than 5% of real gross domestic product, accounted for 16% of growth. And the increase of 103,000 construction jobs over the past year marked one of the few sources of hiring in the bleak job market. In addition, gains in housing wealth have offset stock market losses, enabling household net worth to begin climbing again.
Housing won't collapse. Real estate is not in the midst of a bubble that will rapidly deflate once pricked. But a shift in fundamentals suggests housing is hitting a plateau in the second half and then will gradually slow in 2004. First, mortgage rates are no longer falling as they have over the past three years. If anything, they are likely to rise a bit next year. Second, homeownership is at a record high, suggesting little pent-up demand to lift sales. Finally, because home prices are outpacing gains in aftertax income, affordability is becoming more of a concern, especially within the sector that's key to expanding the housing market: first-time buyers.
WHY WAS HOUSING able to fly so high for so long, even as other sectors were struggling? Give credit to the Federal Reserve and the bond market. Since early 2001, the Fed responded to weak demand by aggressively cutting short-term interest rates, and bond yields followed those rates lower. In mid-2000, the rate on a 30-year mortgage was running as high as 8.64%; today's rate is hovering around 6%.
Cheaper mortgages opened the housing market to more buyers. At 8.6%, a buyer needed an annual salary of $74,770 to qualify for a $200,000 mortgage. At 6%, the income requirement falls to $57,500. In fact, lower mortgage rates are the sole reason that homebuying is more affordable now than a year ago.
House hunters have responded strongly to the fall in rates. Sales of existing homes have been increasing all year. In August, they jumped another 5.5%, to a record annual rate of 6.47 million. New home sales in August increased 3.4%, to a 1.15 million pace, just shy of the record set in June. Both new and existing home sales are on track to set record levels this year.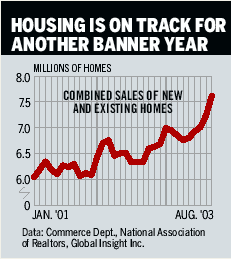 The continued gains in sales have drawn down the inventory of unsold homes. In August, builders had only a 3.7-month supply of unsold new homes. For existing homes, the supply was 4.6 months. Both readings are near record lows. Tight supplies are why homebuilders remain busy. Although starts fell back a bit in August, home construction for all of 2003 will probably be the strongest since 1986.
However, this summer was probably the sector's high point. Sales will increase further only if mortgages rates fall significantly lower. But the current bullish performance of the economy as well as the deteriorating outlook for government finances argue against any more sustained rallies in the bond markets, and mortgage rates are tied to the performance of bond yields.
ECONOMIC STRENGTH has always been a thorn in the bond market's side because the faster the economy picks up speed, the sooner bondholders begin to worry about inflation and policy-tightening by the Federal Reserve. Right now, there is little doubt that real gross domestic product grew at a hefty pace in the third quarter. Not only are businesses spending on equipment once again, but the monthly data on retail sales, service spending, and vehicle purchases indicate real consumer spending, two-thirds of real GDP, grew at an annual rate of about 6%.
True, consumers remain wary about the sluggish job market, according to the latest reading on consumer optimism. The Conference Board's index of confidence fell five points, to 76.8, in September. But bear in mind that consumers' actions don't always follow their sentiment. Even as confidence was slipping last quarter, household spending was increasing at one of the fastest rates in two decades.
The spending spree was financed mostly from the July tax cut and money freed up by previous mortgage refinancings. Real aftertax incomes jumped 1.3% in July and another 0.6% in August. Tax payments as a percent of personal income plunged to just over 10% last quarter, the lowest rate since 1975.
HOWEVER, WHILE THE TAX CUT is boosting the economy now, it may derail housing later on. The cuts will cause steep increases in future federal deficits, which could lead to higher bond yields. So far, the Treasury's need to borrow has not run up against private credit demands. But as the recovery builds momentum, more companies will borrow to buy new equipment. That portends a clash between public and private borrowing needs that could push up long-term interest rates.
So will bond yields jump sharply? Probably not. First, although the recovery is starting to pick up speed, the economy faces an excess of production capacity as well as relatively high unemployment. That means inflation -- and inflation expectations -- will remain tame for a long while. Second, the Fed has indicated quite clearly that it is in no rush to raise short-term rates.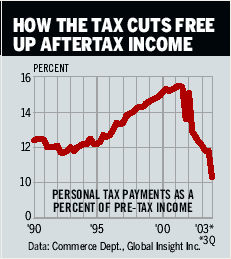 Expect some increase in long rates, though. The Mortgage Bankers Assn. forecasts the 30-year fixed mortgage rate will rise to 6.4% by next spring. Even a small rate uptick raises worries about the affordability of homeownership, especially for first-time borrowers. The National Association of Realtors' Affordability Index dropped in August to its lowest level in a year as the summer rise in mortgage rates increased the annual income needed to buy an existing home. The NAR's index for first-time buyers, which is calculated quarterly, most likely will show a decline in the third quarter as well, because the fall in interest rates has been the driving force for improved affordability over the past year.
Incomes, especially for younger workers, have not kept pace with home prices. According to NAR data, the median income for a typical first-time home buyer rose 1.5% in the year ended in the second quarter, but starter home prices jumped 7.4%.
If home prices and borrowing costs rise at the same time, as they seem likely to do next year, more buyers will be shut out of the housing market. The resulting drop in home construction and sales would be the first yearly decline since 2000. That means the economy's bright spot is starting to dim, and future growth will depend more heavily on consumer and business spending and exports to take up the slack.
By James C. Cooper & Kathleen Madigan
Before it's here, it's on the Bloomberg Terminal.
LEARN MORE