Sontra Medical Looks Healthier with Bayer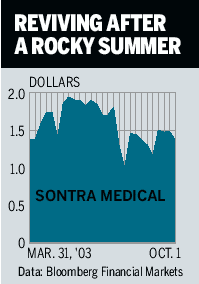 With giant Bayer as a partner, tiny Sontra Medical (SONTC ) could make it big in the $5 billion market for home glucose testing for diabetics. In July, Sontra granted Bayer rights to SonoPrep, its patented, noninvasive skin-permeation technology that allows 24-hour glucose monitoring through a sensor patch. Come January, Bayer will pay Sontra $1.5 million for feasibility studies, to be followed later by a $3 million payment to co-produce SonoPrep. If all goes well, Sontra will apply for Food & Drug Administration approval. Sontra CFO Sean Moran figures Bayer will then commit $15 million to have the product ready for marketing in late 2004 or 2005.
Joe Hammer of LH Financial, an investment firm, figures the initial market could hit $150 million. He thinks the shares, which dropped from 5.60 last October to 81 cents in July on news of possible NASDAQ delisting, have bright prospects. They have since rebounded to 1.40. Sontra raised $3 million from private investors in August to avoid delisting. Larry Salvati, director of applied research at Bayer, says Bayer is impressed with Sontra's SonoPrep technology.
Corrections and Clarifications Sean Moran, chief financial officer of Sontra Medical, says Sontra's SonoPrep product will be marketed in 2004 for topical lidocaine delivery, not for glucose testing ("Sontra Medical looks healthier with Bayer," Inside Wall Street, Oct. 13. The glucose-testing product will be marketed in late 2006 or early 2007.
Note: Unless otherwise noted, neither the sources cited in Inside Wall Street nor their firms hold positions in the stocks under discussion. Similarly, they have no investment banking or other financial relationships with them.
By Gene G. Marcial
Before it's here, it's on the Bloomberg Terminal.
LEARN MORE