Britain: A Rate Hike -- But Not Right Away
The Bank of England is done with its latest round of interest-rate cuts. Signs that the economy is improving and concern about rapid accumulation of debt by consumers have investors betting a rate hike is not far off in the future.
The minutes from the September BOE monetary policy meeting show a shift in attitude. Responding to weaker consumer spending and fragile recoveries abroad, the central bank lowered rates by 25 basis points in July, to 3.5%. Since then, however, economic data have been rosier, leading the central bank to say the cut to "the current level of interest rates might prove to be more than was needed" to keep domestic demand going.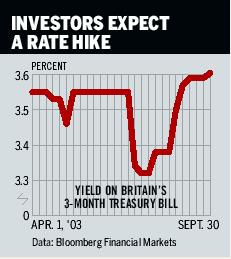 Indeed, second-quarter gross domestic product was revised up from an annual rate of 1.4% to 2.7%, and the third quarter is expected to be stronger. The manufacturing sector is turning around, with the September purchasing managers' factory index hitting a 16-month high. Lower interest rates also prompted a rebound in the housing market. Approved loans for home purchases in August hit 120,000, the largest level since last October.
The buoyant housing market will play a role in two key areas affecting monetary policy. First, home prices are expected to slow and bring inflation down from the August level of 2.9% to a rate closer to the central bank's current target of 2.5%. So far, home prices aren't easing as quickly as anticipated. Historically low interest rates could make the process go even slower. Second, there is debate within the BOE over whether the rapid rise in mortgage and consumer debt -- total lending was up 13.9% from a year ago in August -- could lead to a collapse in consumer spending, thereby requiring preemptive interest-rate hikes to curb borrowing.
Investors believe a rate increase will come before year's end. However, BOE Monetary Policy Committee members have been tempering the hawkish tone of the minutes from the September meeting. And BOE Chief Economist Charles Bean said the second-quarter GDP revisions weren't a big surprise to the central bank, making a move at the Oct. 8-9 meeting appear unlikely.
By James Mehring in New York
Before it's here, it's on the Bloomberg Terminal.
LEARN MORE