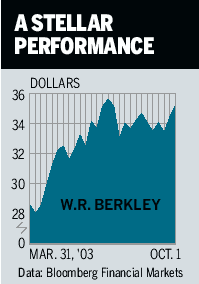 Out ahead of its peers is W. R. Berkley (BER ): This mid-cap property-casualty insurer is a star performer -- in sales, earnings, and stock price. In the second quarter, operating earnings rocketed 96% above last year, to $95.8 million. The shares have shot from 20 last October to 35.16 on Oct. 1. "As a result, Berkley is an attractive takeover target in a long-overdue consolidation," says Mike Frinquelli, a general partner at Renaissance Fund Advisors, which owns shares. Part of Berkley's allure, he says, is robust cash flow -- it has a stash of more than $1 billion -- and a focus on specialty markets, which lets Berkley raise its rates easily.
Berkley goes where most insurers fear to tread, notes Frinquelli, such as policies for doctors who have malpractice woes or liability coverage for company directors, where rates have more than doubled with the escalation in Wall Street scandals. Alan House of Value Line sees sales growing 45% this year, after a 34% gain in 2002. CEO William Berkley, who owns 15% of the company, says "bigger profits are coming in the next two years." Even though the company is "doing extremely well," Berkley doubts that "anybody will offer a price that matches what I think it's worth." Frinquelli sees the stock hitting 50 in 6 to 12 months. In a buyout, it would be valued even higher, he says. Jay Cohen of Merrill Lynch, who rates Berkley a buy, figures it will earn $3.20 a share in 2003 and $3.73 in 2004, vs. $2.03 for 2002. Merrill has done banking for Berkley.
Note: Unless otherwise noted, neither the sources cited in Inside Wall Street nor their firms hold positions in the stocks under discussion. Similarly, they have no investment banking or other financial relationships with them.
By Gene G. Marcial
Before it's here, it's on the Bloomberg Terminal.
LEARN MORE