U.S.: Corporate America Reaches Its Fighting Weight
Trim, flush, and productive, businesses are ready to answer growing demand
It has been a tough three years for Corporate America. In the wake of the stock-market bust, businesses everywhere have made painful adjustments to the new realities of the post-bubble economy. More sober assessments of risk and expectations have forced companies to eliminate the excesses in production capacity, inventories, and payrolls that the boom had generated. Along the way, recession, scandals, and war made the process even more wrenching. The business sector's problems have weighed heavily on the recovery.
What's new in the outlook, however, is that companies are now fit and ready to roll. They have restored their financial health, rid themselves of unproductive assets and bloated inventories, boosted productivity and competitiveness, and increased their profitability. Given these strides -- and a resurgence in demand -- businesses are now willing and able to pull their weight in this recovery. Having Corporate America back in the game will ensure a strong and lasting upturn.
IMPROVED FINANCIAL FITNESS is the key to the business sector's turnaround. Amid the talk of supposedly ruinous levels of corporate debt and lingering financial burdens, what has gone largely unnoticed is that corporate balance sheets, in aggregate, have improved significantly over the past year.
The net worth of nonfinancial corporations hit $9.4 trillion in the second quarter, according to recent Federal Reserve data. Corporate wealth has all but regained its peak level reached at the height of the boom in 2000, and it will probably top that mark by the end of the year (chart). Moreover, the rate of balance-sheet improvement in this recovery far outpaces that following the 1990-91 recession. Six quarters into that turnaround, corporate net worth had fallen by $311 billion. In this upturn, it already stands $224 billion higher.
A few debt-laden industries, such as telecom and airlines, are laggards in the balance-sheet cleanup. But on the whole, corporate-sector liabilities have increased by only $385 billion since the recession ended in late 2001. And over the same period, the value of corporate assets has grown by $609 billion on the strength of big gains in real estate holdings and financial assets.
The performance of financial assets relative to debt speaks volumes about just how financially nimble corporations have become. Since the market bust in 2000, corporate debt, including bank loans, bonds, and all other credit-market obligations, has increased by $520 billion, but financial assets have jumped by $1.5 trillion. Clearly, companies have great ability to meet their obligations, and debt will not be an obstacle to corporate expansion as the economy picks up speed. Indeed, corporate borrowing is beginning to pick up again as businesses take advantage of rapidly improving borrowing conditions in the credit markets and at banks.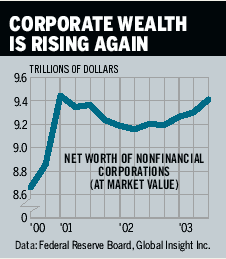 Not that cash-rich outfits really need to borrow. The cash flow of nonfinancial corporations peaked in 1997 and bottomed out in 2001. Since then, more generous depreciation allowances within the tax code and the ongoing profits recovery enabled cash flow to grow by $180 billion, to $781.3 billion in the second quarter. That was enough to cover 99% of all capital expenditures and inventory investment by nonfinancial businesses.
The surge in corporate cash partly reflects the payroll savings from layoffs. But it is also the result of the dramatic shrinkage in the cost structure of Corporate America over the past three years. For instance, lower interest rates and a slowdown in new borrowing have greatly cut the cost of servicing existing corporate debt. Net interest costs for nonfinancial businesses have declined as a percentage of both corporate output and cash flow.
Also, productivity gains have cut unit labor costs and boosted profit margins, even at a time of weak pricing power. And margins have benefited from the elimination of excess capacity, which has lowered fixed costs. Now, with sales accelerating, more revenue is going straight to the bottom line. An even stronger second leg of the profits recovery is shaping up for the second half of 2003.
IT'S IMPORTANT TO NOTE that the asset-led gains in corporate net worth have come even as companies have slashed their extra production capacity, which counts as a tangible asset. Since the recession ended, the value of equipment and software held on corporate books, based on replacement cost, has declined slightly, something that never happened previously in the post-World War II era (chart).
Another way of looking at the capacity adjustment is to compare new capital spending with the rapid rate at which equipment and buildings are wearing out. Through the first half of 2003, the ratio of new outlays to depreciation was running at the lowest level for any year in the postwar period. This suggests that, after one of the biggest capital spending busts since the Great Depression, pent-up demand for new equipment and software may now be building -- especially demand for tech gear, where the replacement cycle is long overdue.
Capacity levels in manufacturing, for example, which had been growing 8% annually in the late 1990s, are now growing only 1% per year. Capacity growth among tech-equipment producers has plunged, from 50% to just under 9%. In fact, so far this year, tech-capacity growth is actually speeding up for the first time in three years, signaling that the tech sector has essentially completed its post-bubble capacity adjustments. That may not be true for telecom, but makers of tech equipment generally appear to be in the early stages of expanding their capacity in response to stronger demand.
GIVEN THAT PICKUP IN DEMAND and the fading of financial stress, businesses are not only ready to pump up their spending on new equipment but also set to restock their warehouses. That will provide yet another kick to economic growth. In particular, inventories of tech equipment, which had ballooned after the bubble burst, are once again aligned with sales.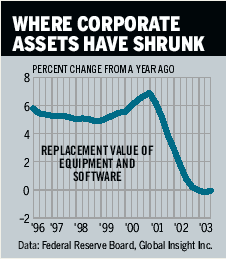 Elsewhere, though, inventories are far too skimpy, given the faster pace of demand. Since the end of last year, economywide inventories have shrunk at an annual rate of 0.6%, while overall demand for goods has grown at a 4.6% rate. In the third quarter, that disparity widened further as demand accelerated.
As a result, economists at J.P. Morgan Securities (JPM ) Inc. conservatively project that inventory rebuilding will boost economic growth by an annual rate of about one percentage point in coming quarters, even when one accounts for the market share taken by imports. The lift might even be greater if businesses expand their inventories as fast as sales are now growing.
Given businesses' healthier financial condition, paying for those additional stockpiles will not be a problem. More important, stronger corporate balance sheets mean companies are also ready to add additional workers to meet rising demand. For the first time in three years, Corporate America and Household America are starting to pull together.
By James C. Cooper & Kathleen Madigan
Before it's here, it's on the Bloomberg Terminal.
LEARN MORE