Germany: Half-Hearted, but a Rebound Nonetheless
Germany's recovery from recession will be slow and uneven, casting doubts on structural reforms and solutions to the rising budget deficit.
The economy has not grown for three quarters in a row, but now the outlook is more hopeful. Industrial production rose 2.5% from June to July. Vehicle assemblies were strong as auto makers recouped production lost during a strike in June. Consumer and business confidence are rising, and the stock market is up 60% since hitting a 7-year low in March.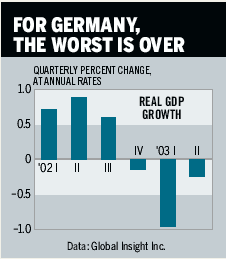 Chancellor Gerhard Schröder is counting on tax cuts of 22 billion euros ($24 billion) to lift demand in 2004. In addition, companies have cut their debt levels and are seeing profits rise. Those moves will generate more money for capital goods. But a recent Bundesbank report says the construction sector shows no improvement yet. And the gain in auto output, a key sector in Germany, will be short-lived. Vehicle sales are down from a year ago, and Germans now hold onto their cars for an average of one year longer than they used to.
Better growth abroad will certainly help, but exports won't lead this upturn. The euro's recent volatility, triggered by remarks from the Group of Seven on flexible exchange rates, shows that Germany cannot depend on a weaker currency to stimulate foreign sales.
Even if exports pick up modestly, the consensus is that the economy will grow at an annual rate of just under 1% in the second half of 2003 and then less than 2% in 2004. Unfortunately, the economy needs to expand faster than that to significantly lower unemployment -- now running at 10.6% -- or to generate enough corporate tax receipts to lower the budget deficit. Moreover, the strong showing by the opposition in the Sept. 21 Bavarian elections indicates that Schröder will face a tough time in getting through any pension and labor reforms.
The German budget deficit in 2004 will run above 3% of the economy for the third year in a row. That will again put Germany in violation of the Stability & Growth Pact. But for now, Schröder seems more focused on jump-starting the economy than pursuing fiscal discipline.
By James C. Cooper & Kathleen Madigan
With David Fairlamb in Frankfurt
Before it's here, it's on the Bloomberg Terminal.
LEARN MORE