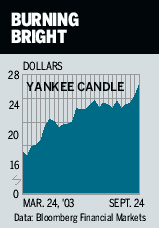 Yankee Candle (YCC ) is not the sort of stock that large-cap value player John Maloney usually goes for. But after a closer look, the president of M&R Capital Management saw the light: In recent weeks he bought 200,000 shares of the small-cap growth company, which operates 278 stores mainly at malls in 42 states. It also supplies Bed Bath & Beyond (BBBY ) and Linens 'n Things (LIN ) Yankee has a 36% share of the $1.6 billion market for premium scented candles. Yankee stock has run up from 14 a year ago to 26 on Sept. 24. Yankee's eye-catching five-year record of rising sales and earnings, plus its strong cash-flow -- about $115 million annually, or $2.20 a share -- make it buyout bait, says Maloney. "We own the shares because of the strong fundamentals," he insists, "[but] you can't ignore the takeover appeal." He thinks it's worth 33 on fundamentals and 40 in a buyout. The solid cash position has let Yankee buy back shares, notes Maloney. It repurchased $9.8 million worth of stock, at about 23 a share, in 2003. Same-store sales dropped in the first half of 2003 but should bounce back in the second half, predicts Douglas Lane of Avondale Partners, who rates the stock "outperform." Yankee expects to open 43 further stores in 2003, and new alliances with other major outlets are possible, says Lane. He expects earnings of $1.40 a share in 2003 and $1.68 in 2004, vs. $1.17 in 2002.
Note: Unless otherwise noted, neither the sources cited in Inside Wall Street nor their firms hold positions in the stocks under discussion. Similarly, they have no investment banking or other financial relationships with them.
By Gene G. Marcial
Before it's here, it's on the Bloomberg Terminal.
LEARN MORE