U.S.: A Temporary Reprieve for Manufacturing
Fatter order books are postponing the pain of long-term structural change
After three years of declines, manufacturing is finally showing signs of recovery. But don't cue the Hallelujah Chorus. All of the factory sector's strength is coming from traditional business-cycle forces. These demand-driven gains will improve factories' fortunes in coming quarters, but they won't reverse the long-term structural shifts that will continue to erode the sector's importance to the economy and payrolls.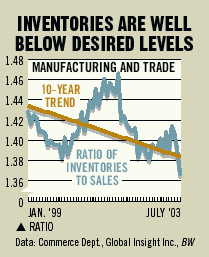 However, don't dismiss manufacturing as inconsequential to the outlook. The sector still matters. From tech equipment to pharmaceuticals, factories are a crucial source of high-value-added output in the U.S. economy. Factory jobs remain one of the best-paid segments of payrolls, contributing more to personal income than the same number of service jobs. And manufacturing's productivity surge in recent years means the sector is a key contributor to higher standards of living in the economy.
Manufacturing's cyclical upturn shows up in the latest data. Better demand has cut inventories to the bone, triggering renewed ordering for both consumer goods and capital equipment. Excluding blackout-related shutdowns at auto plants, factory output has risen for four months in a row. And purchasing managers said industrial activity in August was the busiest so far this year.
This good news is a switch from the last three years, when industrial output generally subtracted from real gross domestic product, and factory layoffs accounted for all of the job losses since the recovery began in November, 2001. Jobs aren't likely to come back soon, but manufacturing should add a dash more strength to the economy in the second half.
OPTIMISM ABOUT MANUFACTURING goes hand-in-hand with the economy's new momentum, which should carry into 2004, say business economists. The National Association for Business Economics released its consensus of member forecasts at their annual meeting in Atlanta on Sept. 15. The group expects real GDP to grow 2.6% this year and by 4% in 2004. Those projections were better than NABE's May survey, which forecast that real GDP would grow 2.3% in 2003 and 3.6% in 2004. The group expects stronger consumer spending and business investment in equipment.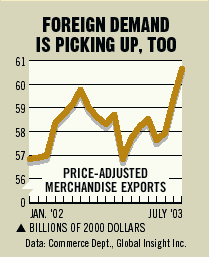 Faster demand is the key cyclical force pumping up factory activity right now. In August, retail sales rose 0.6% after a 1.3% jump in July. Real consumer spending is on track to grow at an annual pace of 5% to 6% in the third quarter. That would be the fastest clip in almost two years.
More important, consumers aren't shouldering the economy's entire load anymore. Led by demand for tech equipment, shipments of business capital goods were up strongly in June and July, while real merchandise exports have increased in six of the last seven months. At their present paces, capital-goods sales and exports in the third quarter could post their best quarterly advances since the late 1990s.
Plus, the growth rate in demand shows few signs of easing in the fourth quarter, thanks in part to the July tax cuts as well as very accommodative financial conditions. As expected, the Federal Reserve kept the federal funds rate at a 45-year low of 1% at its Sept. 16 meeting. The Fed noted that the economy was firming up, but it also indicated that labor markets were weak and that it would keep the funds rate low for quite a long time.
THE RECENT RISE IN DEMAND is helping to clear out inventories. From March to July, sales at manufacturers, wholesalers, and retailers jumped at a 4% annual rate, but their stockpiles dropped 1%.
Of course, inventories have been falling in relation to sales over the past 10 years. Thanks to computer tracking and just-in-time inventory management, businesses can carry fewer goods than they needed a decade ago. But the current level of inventories seems far below the desired amount. Based on the historical trend in the ratio of inventories to sales, the desired ratio should be greater than 1.38. Instead, the July ratio was a record low of less than 1.37.
No wonder businesses are buying again. Factory orders in July rose 1.6% after gaining 1.9% in June. And the Institute for Supply Management said ordering in August was even faster than in July. That was true for overall bookings and exports by themselves.
Fatter order books, in turn, are causing factories to lift production. Output at the nation's factories, mines, and utilities rose 0.1% in August, lifted by a 1.9% advance in power use. Factory output alone dipped 0.1%, but the Fed said the mid-August blackout caused auto output to plunge 2.6%. Excluding vehicles, factory output edged up 0.1%, its fourth consecutive gain.
Leading the uptrend has been the production of high-tech gear. The production of computers, office machinery, telecom equipment, and semiconductors has increased so far in every month of 2003, and it now stands 12.1% above its year-ago level.
DESPITE THIS GOOD NEWS, it is hard to be sanguine about manufacturing's prospects over the long haul. The sector is facing a clash of two different sets of economic forces. Right now, cyclical trends, the result of demand growth, policy decisions, and financial conditions promise to lift the factory sector.
But it is structural change, caused by the Sturm und Drang of technology, knowledge, and business practices, that keeps diminishing manufacturing's strength. First, the U.S. is shifting to a more service- and knowledge-oriented economy. Like agriculture before it, manufacturing accounts for a decreasing share of the dollar value of total output.
Second, as the U.S. workforce becomes more educated and expensive, domestic production of low-end goods can no longer be financially justified. The merchandise cannot compete with cheaper imports. More of U.S. demand is being satisfied by foreign producers or by American-labeled goods that are made offshore.
Lastly, the uptrend of higher productivity has enabled factories to make more with fewer workers. In the past 10 years, output per work hour for all nonfarm businesses has grown an impressive 28.7%. But factory efficiency has shot up 47.3%.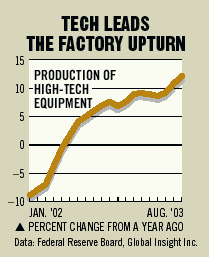 These structural forces aren't new, but they do explain why factory jobs account for only 11% of all nonfarm jobs, down from 27% in the 1960s. And they're the reason why manufacturing did not increase its share of GDP, even during the late 1990s, which were boom years for tech production.
For the next few quarters at least, sustained growth in demand means that better times are ahead for factories. That's what typically happens when a recovery starts in earnest. But the tide cannot be held back. Manufacturers will enjoy the benefits of expansive cyclical forces, but they will still be at risk from the erosion caused by structural forces.
By James C. Cooper & Kathleen Madigan
Before it's here, it's on the Bloomberg Terminal.
LEARN MORE