This Smart Phone Is Actually Easy to Use
Surprise! You can actually operate the Treo 600 with just one hand as you would a phone
Smart phones require a lot of compromises. These devices, which combine the functions of a voice phone, a PDA, and a wireless data device, have been too big to be the perfect phone and too cramped to be ideal for e-mail or Web browsing. But the Handspring (HAND ) Treo 600, available from Sprint PCS (PCS ) in October (and later from Orange in Europe) improves the trade-offs dramatically.
Until now, the Treo 300, introduced last year, was the best of the breed. The Treo 600, armed with a bright color display, a fast processor, and the latest operating software from PalmSource, leaves it in the dust. The 600, which eliminates the 300's flip-phone cover, is about the same length (4 1/2 in. plus antenna) and thickness (1 in.) as its predecessor. But it is a vital half-inch narrower, meaning it fits comfortably even in relatively small hands. At first glance, the tiny keyboard looks too small to use, but I found it the equal of the bigger versions on the 300 and Research in Motion (RIMM ) BlackBerry.
I think, however, that the secret of the new Treo's usability is something more subtle. We expect to use a phone one-handed, and the new Treo is the first smart phone that doesn't require two hands for anything but entering text.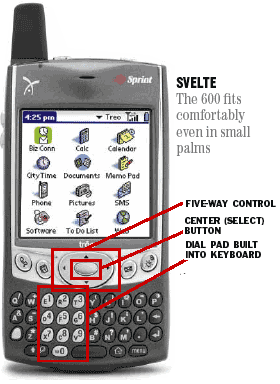 The most important change, oddly enough, is that the Treo works more like a PC. When you see an icon or menu item highlighted on a Macintosh or in Windows, you know it will be executed if you hit "enter." Treo brings this intuitive notion to a handheld. Instead of tapping a button or menu item with a stylus, you use the directional buttons of a five-way control to select an item, then click the center button to activate it. This all but eliminates the need for a stylus, and it makes a big difference.
In contrast to many of the smart phones I have tried, the Treo 600, which will sell for about $500 with Sprint service, is first and foremost a good phone. Battery life, an issue on earlier Treos, is rated at a respectable four hours of talk and 240 hours of standby. You can dial a call by tapping an on-screen dial pad with a finger, by using the 10-key number pad built into the keyboard, or by pressing and holding any key assigned to a speed-dial number. You also can select from a list of "favorites," which can be links to Web pages or programs as well as phone numbers. Finally, you can start typing a name, and matching address book entries pop up. Select the number you want, and the Treo will dial it.
Like most high-end phones, the Treo includes a camera. The quality of the 640x480 pixel pictures is no match for a good digital camera, but they're not bad for a phone. The pictures can be e-mailed easily, although multimedia message services popular in Europe and Asia for phone-to-phone picture sharing are not available on the Sprint network, which doesn't yet offer even a text-only short message service.
The Treo gets wireless data at speeds equivalent to a fast dial-up connection on a PC, and Sprint offers unlimited data use for a $10 monthly surcharge on a voice plan. Web pages load quickly, though the small display limits the usefulness of browsing. You'll be able to download games, other applications, and ring tones over the air from Sprint's PCS Vision service.
For most people, the main data use of the Treo will be e-mail. Sprint offers its $5 a month Business Connection service, which can forward e-mail from corporate accounts to wireless devices and fetch mail from standard Internet accounts. Unfortunately, the Treo 600 version of the software was not ready in time to test the service.
I did, however, get to see the full potential of the new Treo by running Good Technology's GoodLink. It requires corporations to install special server software as an add-on to Microsoft Exchange, but it makes new mail, and contact and calendar changes, along with any other Outlook folders you use, available on the Treo. It's like having your desktop in a handheld.
I don't think the smart phone is likely to replace standard handsets. Most folks use phones primarily for voice calls and, increasingly, for text messaging and picture sharing. For them, a smart phone adds bulk and cost for limited benefit. But for those who want more, especially business users, the Treo 600 sets a new standard.
By
Before it's here, it's on the Bloomberg Terminal.
LEARN MORE