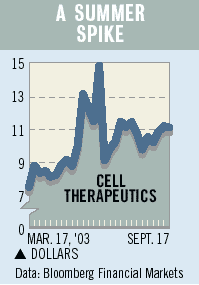 Cell Therapeutics (CTIC ) isn't expected to make money until 2007, but Edward Hemmelgarn, president of Shaker Investments, is buying into the small-cap biotech anyway. Shaker already owns 1.7 million shares. Cell is developing cancer treatments that are less toxic but more effective, he says. Hemmelgarn expects two pieces of good news: positive results from clinical trials on Xyotax, designed to outdo existing chemotherapy drugs such as Taxol and Taxotere, which generated sales of $2 billion in 2002. And he expects Cell to name a drugmaker partner to market Xyotax, which has fast-track approval status from the FDA. Mark Schoenebaum of U.S. Bancorp Piper Jaffray, who rates Cell "outperform," expects the partnership to cover world rights for several products. Jaffray has done banking for Cell. Hemmelgarn sees Cell filing a new-drug application for Xyotax in early 2004 and marketing it in 2005. If Xyotax is O.K.'d, Hemmelgarn figures Cell could earn $3 a share in 2007, "with significant growth thereafter." Cell has one FDA-approved drug, Trisenox, for acute leukemia. But most Trisenox revenues are from off-label sales for multiple myeloma and myelodyplastic syndrome. Expected Trisenox sales are $24 million in 2003 "and by 2007 could exceed $100 million," says Hemmelgarn. Cell stock rocketed from 7 in March to 14.75 in June before backtracking to 11.07 on Sept. 17. Hemmelgarn sees it at 30 in a year.
Unless otherwise noted, neither the sources cited in Inside Wall Street nor their firms hold positions in the stocks under discussion. Similarly, they have no investment banking or other financial relationships with them.
By Gene G. Marcial
Before it's here, it's on the Bloomberg Terminal.
LEARN MORE