South Korea: Hope in a Brighter Export Outlook
South Korea is emerging from its worst downturn since the Asian crisis in 1998, but a full recovery is still a way off.
Real gross domestic product fell 2.9% in the second quarter after a 1.6% drop in the first quarter. The government crushed consumer spending when it clamped down on consumer credit late last year. Plus, exports suffered from the war-related global slowdown and the SARS epidemic in Asia.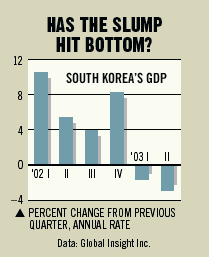 Now, economists agree that a recovery is starting to take hold, but that it faces stiff headwinds. Household balance sheets remain under pressure from last year's borrowing binge and job losses. Also, even though the stock market is up sharply, an increasing amount of Korean investment is going to China. "The Korean economy is now caught in a vicious circle of poor investment, lack of new employment, and poor domestic consumption," says Huh Chan Guk, chief economist at the Korea Economic Research Institute, a chaebol think tank.
Making matters worse, strikes by workers in the transportation, auto, shipbuilding, and chemical industries over the past two months have crippled industrial production. Then, as container loading for exports at the bustling Pusan port was finally getting back to normal, damage from Typhoon Maemi will further curtail port activity. The unusually long rainy season is also hampering farm output and construction. Economists generally expect growth of about 3% this year and 4% to 5% in 2004.
Exports, which account for some 40% of GDP, will lead the recovery, and the outlook there is improving. August export growth slowed to 11% from 16% in July, but that was a strong showing given the effects of the strikes. Business confidence in August rose to its highest level in almost a year. The healthier outlook for Korea's foreign markets, especially in Asia, should keep exports on the upswing. Gradually, that will boost profits, business investment, and hiring, which will help to get households spending again.
By James C. Cooper & Kathleen Madigan
With Moon Ihlwan in Seoul
Before it's here, it's on the Bloomberg Terminal.
LEARN MORE