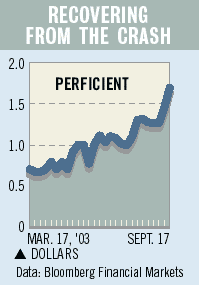 When the tech bubble burst, little-known Perficient (PRFT ) tumbled -- from 28 in 2000 to 1.70 now. But Perficient, which helps giants like IBM adapt their software to customers, may get a boost as IT spending rebounds. Perficient is one of five companies that integrate IBM's WebSphere software with users' systems. WebSphere enables clients to handle e-commerce more efficiently. IBM will soon announce an extension of its Perficient pact. "Perficient is a play on outsourcing by software makers," says Brian Harvey of Kingfisher Capital Management, which owns shares. He says more makers, including Microsoft, are using outfits like Perficient. "Some $8 million of our estimated 2003 sales of $28 million will come from IBM," says CEO John McDonald. Morton Meyerson, ex-president of EDS and now head of investment firm 2M, owns 20% of shares. Perficient's larger rivals include Accenture and Sapient (SAPE ). But Perficient, says Harvey, has more upside potential. Also, he adds, "with consolidation going on, Perficient is one attractive takeover target." He says it will earn 5 cents a share in 2003 and 12 cents to 14 cents in 2004. In 12 to 18 months, he sees the price hitting 5. McDonald declined comment on the takeover speculation.
Unless otherwise noted, neither the sources cited in Inside Wall Street nor their firms hold positions in the stocks under discussion. Similarly, they have no investment banking or other financial relationships with them.
Before it's here, it's on the Bloomberg Terminal.
LEARN MORE