Online Extra: Rising Credit Quality in Emerging Markets
The good news: S&P downgrades fell to their lowest level since first-quarter 2000
Credit quality maintained its upward march in the emerging markets from the depths to which it fell during the throes of the Argentina crisis in late 2001. Downgrades accounted for 54% of all emerging-market rating actions in the second quarter, the lowest share since first-quarter 2000. The proportion of companies listed with a negative bias shrank relative to a year ago. As of July 14, 20% of rated companies in emerging markets either had negative outlooks or were on CreditWatch with negative implications, compared with 26% one year earlier.
Improved creditworthiness is just one factor contributing to increased demand for emerging-market securities this year. Others include a higher appetite for risk among investors in an enviroment of record-low interest rates as well as country-specific factors. Nevertheless, credit quality varies significantly by region.
Latin America still showed the greatest potential for further credit deterioration due to liquidity and refinancing risk. Meanwhile, Eastern Europe/Middle East/Africa (EEMEA) -- notably issuers in Russia, Lebanon, and Romania -- showed the most promise in terms of potential upgrades. Sectors that retained a noteworthy negative bias included homebuilders, high technology, utilities, and transportation.
Overall credit quality in emerging markets improved in second-quarter 2003, with the corporate credit ratio -- the ratio of downgrades per upgrade -- declining to 1.2 compared with 2.6 a quarter earlier. Even though the number of downgrades increased slightly relative to the first quarter, it was offset by a bigger increase in upgrades.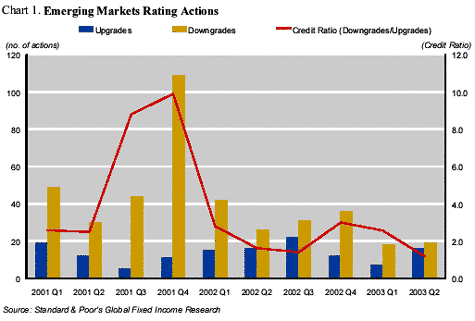 A total of 19 downgrades and 16 upgrades were recorded in the second quarter on rated debt outstanding worth $13.6 billion and $4.6 billion, respectively. A quarter earlier, 18 downgrades and 7 upgrades were recorded. The corporate credit ratio is the lowest recorded since first-quarter 2000. Meanwhile, downgrades as a proportion of all rating actions in the emerging markets slid to 54% in second-quarter 2003 -- again, the lowest share since first-quarter 2000's 37%.
Globally, the tally of rating actions in second-quarter 2003 was 215 downgrades and 69 upgrades, compared with 215 downgrades and 47 upgrades recorded a quarter earlier.
In emerging markets, 11 of the 35 rating actions were accounted for by sovereign issuers, which saw six upgrades and five downgrades. Six of these sovereign actions were recorded in Latin America, three in EEMEA, and two in the Asia-Pacific.
Outside of sovereign issuers, the utility sector was the worst affected by downgrades, recording four vs. only one upgrade. Other sectors that recorded downgrades were consumer products, forest products and building materials, high technology, homebuilders/real estate companies, and transportation.
Upgrades were most prominent in the banking sector and telecommunications. Banks in Indonesia, South Africa, and Thailand received upgrades as did three Eastern European telecoms -- Polska Telefonia Cyfrowa, JSC North-West Telecom, and EuroTel Bratislava.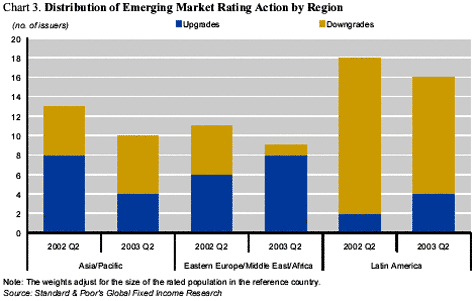 The distribution of rating actions by region showed that Latin America experienced the worst credit momentum, as evidenced from downgrade vs. upgrade activity. Downgrades accounted for 75% of total rating actions in Latin America, vs. 60% in Asia-Pacific and only 11% in EEMEA. That compares with a year earlier, when Latin American downgrades accounted for 89% of total rating actions, with Asia-Pacific and EEMEA accounting for 38% and 45%, respectively.
The year-ago comparisons indicate that credit conditions in Latin America are easing slowly, although they still remain high vis-à-vis other emerging markets. Even though credit conditions in the Asia-Pacific region showed a downward trend in the second quarter relative to the first, it should be pointed out that the small number of rating actions in the region has the potential to exaggerate movements in underlying credit quality.
In line with broad historical trends, downgrades were heavier in the speculative-grade or high-yield segment, which houses more than 50% of total rated emerging-market entities. Downgrades accounted for 62% of all rating actions in the second quarter. In the investment-grade segment, downgrades were sparser, accounting for only 33% of all actions.
By Diane Vazza, head of S&P's Global Fixed Income Research, in New York
Before it's here, it's on the Bloomberg Terminal.
LEARN MORE