Landry's Restaurants: Riches from the Sea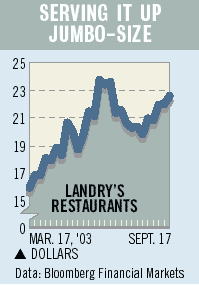 Just stick to long-term, mid-cap value plays. So advises Roger Lipton, whose RHL Associates climbed 42% in 2001 and 7% in 2002, while the indexes slid way down. This year, only NASDAQ's 35% jump through Aug. 31 beat Lipton's 29% gain. The Standard & Poor's 500-stock index rose 14%. At first glance, Lipton's picks look humdrum -- and they are: eateries and retailers. His latest find is Landry's Restaurants (LNY ), No. 2 in seafood. It owns 279 restaurants, such as Joe's Crab Shack and Landry's Seafood House. Its stock is heating up -- from 15 in March to 22 on Sept. 17. Lipton sees it hitting 30 in a year. Compared with its peers, says Lipton, Landry's is cheaper, based on book value, cash flow, and assets. Landry's owns the land under most of its outlets. Lipton is impressed with Landry's swift integration of acquisitions, such as Chart House and Saltgrass Steakhouse, both acquired in 2002. Landry's cut ad costs, lifted earnings, and improved efficiency. It will open 24 new eateries in 2003, 25 in 2004. "We expect sales growth to accelerate," says Dennis Milton of S&P, who rates the stock "accumulate." Favorable food and labor costs, he adds, plus the rising popularity of seafood, should boost profitability. He sees 2003 earnings of $1.78 a share on sales of $1.1 billion and $1.92 on higher sales in 2004, up from $1.54 on $894.5 million in 2002.
Unless otherwise noted, neither the sources cited in Inside Wall Street nor their firms hold positions in the stocks under discussion. Similarly, they have no investment banking or other financial relationships with them.
By Gene G. Marcial
Before it's here, it's on the Bloomberg Terminal.
LEARN MORE