Projecting the Right Image Isn't So Tough
Portable projectors have shrunk in bulk and price. Some of them are even Wi-Fi enabled
In 1998, when I first wrote about portable projectors for use with laptops, the big news was that you could buy a "mobile" unit that weighed less than 10 lb. and cost about $5,000. In retrospect, it seems as if you would have needed a projector really badly to put up with either the weight or the cost.
Like the laptops they work with, projectors have gotten dramatically smaller and cheaper, making them true mainstream products. The new $2,699 LP120 from InFocus weighs less than 2 lb., and its distinctive long, narrow shape lets it fit in a briefcase along with a laptop. If your back is stronger but your budget weaker, you can get a bigger, but still portable, projector for less than $1,000. And if you are tired of fussing with cables, some projectors let you connec (NIPNY ) wirelessly from a Wi-Fi equipped laptop.
Despite its diminutive size, the LP120 offers all the features a mobile executive needs in a projector. Its high resolution is valuable for projection of detailed spreadsheets or financial documents, and its lamp is bright enough for the image to be legible in a normally lit conference room, although dimming the lights will always improve the appearance. And it is very quiet.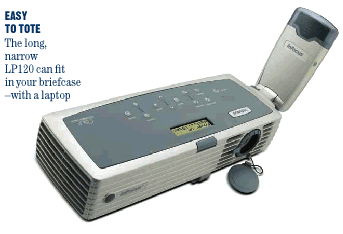 Some compromises had to be made to fit all this into a package just 10 in. wide, 3.7 in. deep, and 2 in. high. For starters, there are only two video inputs: a standard digital computer connector (most laptops only offer analog output and will need an adapter, which is included) and S-video for broadcast sources such as TV or DVD. There is a jack for audio input, but the sound quality is probably worse than your laptop's. And its lens provides only manual focus and zoom. Moreover, the zoom range is so limited that it's useful only for fine-tuning the size of the image after you have positioned the projector.
In the mobile tech world, you generally pay more for small. The extreme compactness of the LP120 requires a complex and expensive optical system. If you are willing to carry a somewhat heavier -- 2.2 lb. to 3.5 lb. -- projector of more conventional dimensions, you have a number of choices. These include the $1,699 Hewlett-Packard (HPQ ) sb21, the $1,895 NEC LT75Z, the $1,700 Dell (DELL ) 3200 MP, and the $2,199 InFocus LP70.
The more exciting news is the arrival of sub-$1,000 projectors. Epson first broke the barrier this summer with its $999 S1. At 7 lb. and bulky (10.4 in. by 14.6 in. by 4.2 in.), it's not something you would want to carry around every day. But it, and other projectors in its class, are a great value for the conference room or classroom and for occasional portable use. Toshiba (TOSBF ) quickly upped the ante with its $999 TLP-S10U projector. This model and the Epson are a little bit brighter than the InFocus LP120 and offer lower resolution, but still good enough for most business uses. The Toshiba model weighs just 4.8 lb. and has about half the bulk of the Epson.
Now, Dell Computer is shaking up the market. Its 4 lb. 2100MP is a bit smaller than the Toshiba and not quite as bright. But a recent price cut to $850, with promotions taking it as low as $800, makes it a formidable challenger. A downside to the Dell: The lamp, a $300 replacement part, is rated at 2,000 hours, only two-thirds the life of most competitors.
One thing that can make the use of any projector inconvenient is the necessity of tethering your laptop to the projector by means of a bulky cable that never seems to be quite long enough. Wireless solutions are coming to the rescue. Some projectors have Wi-Fi networking built in, but InFocus offers the LiteShow -- a $499 accessory that makes any InFocus projector with a standard digital video connector wireless.
I tried the LiteShow with the LP120 and ran into a couple of glitches. The projector would not power up with the LiteShow attached, so I had to put up with the minor inconvenience of plugging it in after turning the LP120 on. The wireless configuration is harder than it should be. You have to set up a mini-network for just the projector and the laptop rather than use an existing Wi-Fi network, and while this is not hard, the instructions on how to do it are not clear enough. But once set up, the LiteShow worked beautifully.
These new projectors are easy to use, easy to transport, and easy on the wallet. Even if you don't spend the bulk of your working life giving presentations, a projector can be a valuable addition to your business tool kit.
By
Before it's here, it's on the Bloomberg Terminal.
LEARN MORE