Brazil: One Growth Obstacle after Another
After just eight months in office, President Luiz Inácio Lula da Silva of the left-wing Workers' Party has won congressional approval for economically critical and politically controversial pension and tax reforms, which the last administration failed to obtain in its eight-year tenure. Now, da Silva faces a bigger challenge: reviving Brazil's economy.
In 2003's first half, Brazil's economy fell into recession. Most economists expect growth for the entire year to be a miserly 1%. And a government-linked research group recently embarrassed ministers by predicting growth of just 0.5% in 2003.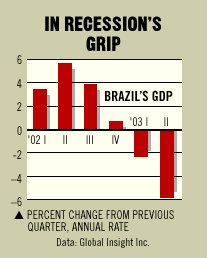 Business and labor groups have been pressing for interest-rate cuts ever since the new government took office. But over the first half of this year, Brazil's central bank raised the overnight rate in an effort to rein in inflation, which hit 17.2% in May. The higher borrowing costs suffocated consumption and investment.
Inflation is now slowing -- down to a 15% yearly pace in August -- and is expected to keep falling. In response, the central bank has cut rates from 26.5% in June to 22%. Two more points could go at the next monetary committee meeting on Sept. 17.
However, costs to borrowers in Brazil remain stubbornly high, often more than 100% a year. More worrisome is the recent erosion in Brazilians' spending power. Workers' income fell by an alarming 16.4% in the year ended in July, according to government figures. Even if rates keep falling, consumers aren't likely to heat up the economy anytime soon.
Taxes are another obstacle to growth. Brazil's tax burden is among the highest in the world, equal to 41.7% of salaries. Reforms now proceeding through Congress will simplify the tax system, but won't reduce the total burden. That will be possible only if interest rates fall further and the government can keep spending in check, thereby reducing the amount of money needed to pay its own debts. For now, Brazil's economy is going nowhere.
By Jonathan Wheatley in São Paulo
Before it's here, it's on the Bloomberg Terminal.
LEARN MORE