At Interwoven, Things Are Meshing Nicely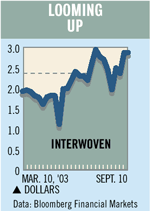 Savvy hedge funds have been snapping up Interwoven (IWOV ) shares in anticipation of the enforcement in 2004 of the Sarbanes-Oxley Act, aimed at improving the way companies manage and report financial information. The law requires companies to set in place internal controls and auditing safeguards to prevent accounting fraud. It would be a boon to Interwoven, says one New York hedge fund manager, who asked not to be identified.
Interwoven's software automates the collation and reporting of information, especially in documenting earnings results. Currently at 2.90, Interwoven is down from its high of 62 in 2000. It has cash of $1 a share and no debt. This pro sees the stock doubling in a year: He expects the company to be in the black by the fourth quarter -- although it will post a yearly loss for 2003. In 2004, he foresees earnings of 4 cents to 5 cents a share. In August, Interwoven acquired iManage (IMAN ), a maker of data-management software. The buy improves Interwoven's ability to compete against big rivals, says David Rudow of U.S. Bancorp Piper Jaffray (USB ) who rates the stock outperform. He projects a loss of 16 cents a share in 2003 on sales of $108 million and a loss of 4 cents in 2004 on $118 million, excluding iManage's numbers.
Unless otherwise noted, neither the sources cited in Inside Wall Street nor their firms hold positions in the stocks under discussion. Similarly, they have no investment banking or other financial relationships with them.
By Gene G. Marcial
Before it's here, it's on the Bloomberg Terminal.
LEARN MORE