Why Plato Is Getting Good Marks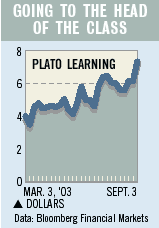 Even though school funding is scarce these days -- with states in financial straits -- shares of Plato Learning (TUTR ) have more than doubled, from 3.39 in March to 7.34 on Sept. 3. Two reasons: Plato, which provides computer-instruction systems for middle school, high school, and college, should benefit when Uncle Sam frees up more money for schools, particularly as the 2004 elections near. And Plato is rumored to be takeover bait. "Plato, with its superb curricula for reading, math, and science, is compelling, trading at just one times sales -- with no debt," says Eric Miller, managing director at Heartland Advisors, which has a 9.5% stake. In a consolidating industry, Plato would be an attractive target, he argues, for major book publishers. He believes Pearson or Reed Elsevier is looking at Plato, which, he figures, is worth 12 a share, or $201 million. Plato's current market cap is $116.5 million. Miller expects Plato, which posted a loss in fiscal 2002 ended Oct. 31, to earn 7 cents a share in 2003 and 35 cents in 2004. Shane Glenn of investment outfit Dougherty is neutral on the stock but notes that, given its fixed-cost structure, Plato will get "significant improvements in earnings momentum" when funding and sales growth returns. A Plato spokesman says that despite the rumors, "the company isn't for sale."
Unless otherwise noted, neither the sources cited in Inside Wall Street nor their firms hold positions in the stocks under discussion. Similarly, they have no investment banking or other financial relationships with them.
By Gene G. Marcial
Before it's here, it's on the Bloomberg Terminal.
LEARN MORE