U.S.: Finally, an Economy Firing on All Cylinders
Bigger demand, cheaper loans, and more profits have business spending
Corporate America's reluctance to spend and hire has been the biggest drag on this lackluster recovery. Not anymore. Solid earnings growth, a river of cash flow, and friendlier financial conditions are combining with new signs of life in overall demand. It's a potent mix that already is starting to fuel capital spending and the economy's growth rate, the two keys to more hiring.
Fresh signs of stronger growth showed up in the Commerce Dept.'s Aug. 28 update on second-quarter real gross domestic product. Real GDP grew at a 3.1% annual rate, up from the 2.4% pace first reported, mainly reflecting upward revisions to demand from consumers, businesses, and foreigners. Moreover, the latest economic reports show that growth in the current quarter is off like a rocket: Estimates of 5% are becoming commonplace.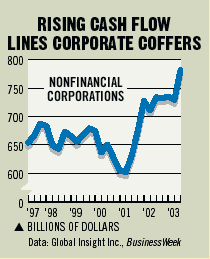 Of course, the economy has been here before. Forecasts of a growth pickup have been soundly dashed over the past two years. What's different this time is that the economy finally is firing on all cylinders. Instead of waiting on the sidelines, executives are more confident in the outlook and more willing to invest in new equipment, especially because demand is turning out to be stronger than expected.
That momentum is why shocks such as the August blackout or higher gasoline prices do not have the power to waylay the recovery that they did in previous years. Better yet, the increased willingness of executives to bet on the future means not only stronger GDP growth and a rebound in capital spending but also suggests the job markets should finally begin to turn around, perhaps by yearend.
AT THE HEART of the upswing in business spending are sharply improved financial conditions. Certainly, the more buoyant stock market has given companies access to cheaper equity financing. Plus, the risk premiums that credit-market lenders demand for loans to businesses have shrunk to three-year lows.
In addition, banks are friendlier. The Federal Reserve's latest survey of senior loan officers shows that the number of banks tightening their lending standards over the past three months fell to the lowest level since 1998. And for the first time since then, banks said they actually eased spreads between their loan rates and their cost of funds, citing increased competition from nonbank sources of borrowing.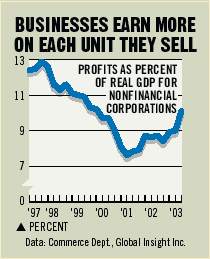 But more critical than the rise in outside financing is the fact that companies are increasingly generating their own cash. In its GDP report, Commerce said that second-quarter corporate profits, adjusted for inventory values and replacement-cost depreciation, soared at an annual rate of 50.8% vs. the first quarter. A new depreciation allowance from the government, along with special treatment for the airlines, boosted the gain. But the increases over the past three quarters have averaged a 23.8% rate. Profits now exceed their previous peak, reached in 1997, and corporate cash flow has surged by $169 billion in the past two years to a record high.
Profit margins are also rising. Profits earned by nonfinancial corporations on each unit produced last quarter rose to 10.1%, from 9% in the first quarter, the largest increase in a decade. This measure of margins is still well below its 1997 peak, but heights hit during the late-'90s boom are unlikely to be scaled again soon.
SO FAR, BETTER EARNINGS have been primarily a story of cost-cutting. Margins improved in large part because of big gains in productivity, which cut the labor cost of producing each unit of output. For example, productivity over the past year was up about 4%, allowing unit labor costs to fall about 1%. Even with prices up a mere 0.9%, the profit margin on a unit of output increased significantly. That's one reason why companies have been able to lift overall profits even as revenue growth has been tepid.
Now the story of stronger profits is beginning a new chapter. Past margin improvement is starting to combine with stronger demand. Revenue growth will clearly increase in the second half, thanks to a spurt in consumer demand. Real household spending in July jumped 0.6%. Lifts from tax cuts and refi cashouts, plus strong weekly reports on back-to-school sales and car buying in August, suggest real outlays could rise 5% this quarter. And fatter margins mean that a greater percentage of that extra revenue will fall straight to the bottom line.
Finally, earnings will benefit from the moves by businesses to eliminate their excess capacity. The overhang of production facilities was one trigger of the last recession, and businesses spent most of this recovery paring down their capacity. The resulting drop in fixed costs will lift profits as demand strengthens.
BUT AS THEY MOTHBALL older machinery, businesses finally seem willing to buy new more efficient machinery. That's because companies recognize that to keep the productivity advances coming, they must continue to invest in the future.
The latest GDP data show that outlays for new equipment rose 8.2% last quarter, the largest quarterly advance in three years. That's also true even before adjusting for falling tech prices. Overall dollar purchases of tech equipment led the way last quarter, also growing at the strongest pace in three years. In particular, business outlays for computers and peripherals, unadjusted for prices, soared 37.3% -- the biggest quarterly increase since 1995.
It's no flash in the pan. Monthly data on orders and shipments of capital goods show continued gains in July that suggest an even faster pace of overall equipment spending this quarter. Orders for capital goods, excluding the volatile aircraft industry, have been trending higher since the end of last year. In the past three months, shipments of capital goods have taken off, growing 2.9% in both June and July, the largest two-month rise in more than a decade.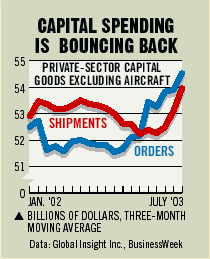 Another key driver in the business-sector rebound will be the need to rebuild depleted inventories, a trend that is especially noticeable in the manufacturing sector. From April to July, shipments of durable goods rose 4.6%, but inventories fell 2%. That's one reason factory activity is ramping up, as seen in the steady rise in the index of industrial activity compiled by the Institute for Supply Management. The index posted a fourth consecutive rise in August, to 54.7%, a level that the ISM says, if maintained, is consistent with overall economic growth of 4.3%.
The last time real GDP averaged growth above 4% for at least two quarters was back in 2000. But thanks to accommodative financial conditions and a better profits outlook, businesses are now ready to add their considerable weight to the recovery. Their participation means that growth will be stronger and more self-sustaining.
By James C. Cooper & Kathleen Madigan
Before it's here, it's on the Bloomberg Terminal.
LEARN MORE