Southeast Asia: Look for a Double-Digit Turnaround
Several Southeast Asian economies got sick during the first half of the year. The diagnosis was a nasty combination of a weak U.S. economy limiting export growth and SARS' damping down of domestic demand. Now, the region is poised for a healthy second half.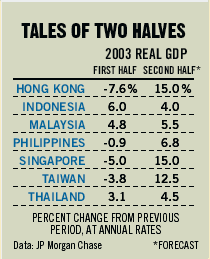 Most of the area's second-quarter gross domestic product figures are out. Singapore's economy contracted at an annual rate of 11.4%, Taiwan GDP shrank for the first time in six quarters, and the Philippine economy posted very weak growth of just 0.4%.
Southeast Asia is expected to outperform the rest of world over the remainder of the year. Singapore's GDP is forecast to jump 15% in the second half, as is Hong Kong's economy (table). Exports of tech gear, a key part of the region's economy, are set to take off. U.S. business investment is rebounding, and a big part of that spending will be in high tech. The U.S. is a huge market for the region: Over 9% of U.S. goods imports come from Southeast Asia.
In addition, demand for high-tech gear by the larger Asian countries, such as China and South Korea, is set to surge higher. Research company Gartner Inc. expects Asia-Pacific semiconductor sales to hit $67 billion this year and jump by over 20% next year.
To ensure a strong recovery, though, domestic demand will have to rebound as well. There are signs that consumer spending and tourism are recovering from the severe acute respiratory syndrome outbreak of earlier this year. Hotel occupancy in Hong Kong hit 60% in July, from 30% in June. But countries such as the Philippines, where exports account for over 40% of GDP, need to do more to build up their domestic economies.
Any outlook comes with a caveat, however. An attempted military coup in the Philippines and an August car bombing in Indonesia highlight the region's vulnerability to terrorism. Further attacks could scare off both tourists and consumers, to say nothing of investors.
By James Mehring in New York
Before it's here, it's on the Bloomberg Terminal.
LEARN MORE