Breathing Easier at Lincare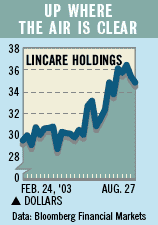 Shares of Lincare Holdings (LNCR) have been on the rise, from 27 in February to 34.88 on Aug. 27 -- despite the Street's skittishness about the stock. Most analysts worry that Lincare, a provider of oxygen and other respiratory-therapy services to patients at home, is subject to the vagaries of government payments. Since most Lincare patients are elderly people with chronic lung conditions, they are usually on Medicaid or Medicare. Often the government negotiates the prices it is willing to pay for such services.
Yet Lincare has beat Street estimates in each of the past four quarters. To Grant Babyak, managing director at Times Square Capital Management, any dip in the stock is an opportunity to buy. Lincare has been able to withstand reimbursement rollbacks, he says, because it is one of the most efficient -- if not the best -- operator in the industry. Trading at 13 times his 2004 estimate of $2.52, the stock is worth 43, or 17 times the price, says Babyak. He expects $2.24 in 2003. Frank Connelly of Standard & Poor's notes that Lincare's sustainable earnings growth and low stock valuation deserve a rating of "accumulate."
Unless otherwise noted, neither the sources cited in Inside Wall Street nor their firms hold positions in the stocks under discussion. Similarly, they have no investment banking or other financial relationships with them.
By Gene G. Marcial
Before it's here, it's on the Bloomberg Terminal.
LEARN MORE