Australia: Homing in on Runaway Home Prices
The Reserve Bank of Australia has added a new twist to monetary policy. Central bankers elsewhere await the results.
The RBA disappointed some investors when it held its policy rate at 4.75% on Aug. 11. Policymakers had been making a case for a rate cut, but in its policy statement, the RBA laid out its reasons for no action. First, the nonfarm economy was in a "strong condition," although domestic demand has slowed.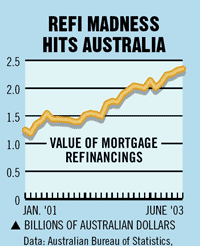 Second, yearly inflation is running about 2.75%, above the RBA's midpoint target. Lastly, the farm sector is recovering from its drought. Private economists expect the economy will grow by a solid 3% or so over the next year.
The RBA noted two risks to the outlook: the global economy and the swings in the Aussie dollar. Then the bank ventured into new territory when it warned of "the rapid growth of credit and its flow-through into strongly rising housing prices." Home prices jumped 18% in the year ended in the first quarter, and June home-loan approvals rose 4.1% to a record. By leaving rates unchanged, policymakers hoped to slow the gains in home prices.
The jump has fueled a surge in home-equity loans and refinancings, which have increased household cash flow by about 4% over the past year. That extra money has largely been spent. The danger is that a drop in home prices will curtail consumer demand and destabilize the economy.
To understand the risks further, the RBA hosted a conference entitled "Asset Prices and Monetary Policy" on Aug. 18-19. Some of the speakers came from U.S. universities and the Bank of England. That's not surprising, since the U.S. and Britain are also dealing with rapid runups in home prices that have fueled consumer spending sprees.
Indeed, officials at the Federal Reserve and the BOE will be watching closely as their Australian counterparts enter a new phase of policymaking. For now, no one knows the exact policy response to achieve a soft landing after a frenzied runup in asset prices. The RBA hopes to find out.
Before it's here, it's on the Bloomberg Terminal.
LEARN MORE