Why Is Callaway Chasing Golf Balls?
About playing golf, what I know fits neatly on a tee's pointy tip (that end goes up, right?) Yet I can't help thinking the people at Callaway Golf (ELY ) also have some things to learn, in their case about investments, deep losses, and when the time comes to cut them. To see what I mean, keep your eye on the Callaway golf ball.
Since its start in 1982, Callaway has built its brand on clubs, a segment it now leads in each key category -- woods, irons, and putters -- with pretax profit last year of $179 million on $726 million in sales. Club sales through June this year rose nearly 5%, and pretax profit 11%. That's impressive, given the dreary economy and a 3.5% drop in the number of golf rounds played in the U.S., according to market researcher Golf Datatech. In part, you probably can credit endorsements from such pros as Annika Sorenstam, who in May drew acres of free publicity as the first woman to compete in a Professional Golfers' Assn. tournament in 58 years. In August, Calloway built its roster further by luring last year's U.S. Amateur champ, Ricky Barnes.
Golf balls have proved a lot tougher for the Carlsbad (Calif.) company. Callaway started selling balls in 2000, but it hasn't broken from a large pack. Sales last year reached just $66 million, and the first half of 2003 saw ball sales plunge 37%, to $29.3 million. Callaway's pretax loss on balls topped $10 million, up from $6.2 million in 2002's first half.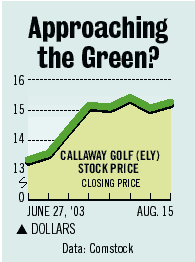 Soon, at least the sales figures may change. Callaway hopes to buy the No. 2 ballmaker, Top-Flite Golf. Last year, it sold $186 million worth of balls, plus another $40 million in clubs. But under the weight of debt taken on in a 1996 leveraged buyout, Top-Flite entered bankruptcy in June. Callaway thought it had a prepackaged deal to snap Top-Flite out of bankruptcy with a $125 million offer. Then, in July, other bidders, notably adidas-Salomon, maker of Maxfli balls and TaylorMade clubs, swooped in. So the court scheduled a Sept. 3 auction, setting Callaway's $125 million offer as the bid to beat.
Although Callaway shares have rallied on prospects of a deal (chart), it's no gimme that a deeper investment in golf balls would be bullish. While the company maintains buying Top-Flite is a far better option, it will consider other steps to end its losses on golf balls if it doesn't win Top-Flite. Nor does it make any bones about the blunders it made in balls after spending more than three years and $170 million in startup costs. For example, it infamously tried to rewrite the ball market's packaging customs, selling boxes of 10 in two five-ball sleeves instead of the common dozen in four three-ball sleeves. Callaway had to retreat and, a spokesman told me, has "been playing catch-up ever since." Way ahead is Fortune Brands (FO ) Acushnet unit, whose Titleist and Pinnacle balls enjoy more than half of the market.
Worse, all the competition -- which also includes Nike (NKE ) -- has put golf ball prices under pressure. Through this year's first half, the average price for a dozen balls fell 4.1%, to $24.38, according to Golf Datatech, as unit sales sank 5.4%. The trend at Callaway is worse: Although the company aimed its balls at the market's premium end, a year ago it had to cut list prices.
All told, 3 1/2 years of selling golf balls has brought Callaway $184 million in revenue and losses of $99.5 million. Your name doesn't have to be Tiger to know that's one sorry return on an initial investment of $170 million, plus $51 million in 2002 to buy the manufacturing equipment Callaway had been leasing. Now, Callaway proposes to spend $125 million more on Top-Flite.
The deal promises economies of scale, certainly. Callaway figures its ball segment would at last turn profitable some time next year -- but only after up to $70 million in write-offs that Callaway estimates would be required in consolidating the companies' operations. In other words, Callaway would buy $125 million in Top-Flite assets and combine them with its own golf ball assets, which it listed at yearend at $103 million. After sorting through that $228 million in merged assets, $70 million of them would evaporate. Someone help me, please: Aren't golfers supposed to replace divots, not make the holes deeper?
By Robert Barker
Before it's here, it's on the Bloomberg Terminal.
LEARN MORE