U.S.: That Summer Breeze Could Waft for a While
The blackout was but a blip, and the quarter could see 5% growth
The economy shot out of the third-quarter starting gate like Seabiscuit taking on War Admiral. From retail sales to factory activity to exports, almost all the economic reports were surprisingly positive. Indeed, some economists are beginning to whisper that the economy could be growing as fast as 5% this quarter.
The summer spurt is just what the U.S. economy needs. Over the past two years, real gross domestic product growth has been so erratic that businesses were hesitant to spend on capital equipment -- and they continued to lay off workers. That start-stop pattern seems to have ended. Even if growth does not hit 5% this quarter, the economy's momentum is strong enough to ensure a solid expansion into 2004. A stretch of above-par economic growth will help to soak up excess capacity, turn executive sentiment around, and prompt businesses to add to their payrolls again.
The latest data paint a surprisingly strong picture of the third quarter (table). Retailers were busy in July. Housing starts jumped to a 17-year high. Even jobless claims are declining. Meanwhile, inventories are so low that businesses have to start ordering new goods or risk losing customers. So industrial production is picking up, led by output of high-tech gear. And the most recent price reports indicate that the U.S. is in no danger of falling into a deflationary spiral.
Don't expect the power blackout in the Northeast to be much of a drag. From an economic perspective, the outage is much like a blizzard: Almost all activity was delayed rather than canceled. The blackout may affect some of the August data, including output and hours worked, especially since it occurred in the week that the Labor Dept. did its payroll survey. Also, the loss of perishable foods may skew data on restaurant sales and grocery store receipts. But even the record-breaking blackout does not alter the fact that the economy has moved up -- finally -- to a period of higher growth.
AS WITH A HORSE RACE, the key to success is endurance. On that issue, the Federal Reserve has indicated that it will not stand in the way of a strong recovery. Policymakers kept the federal funds rate unchanged at 1% on Aug. 12, and their accompanying statement said they believe "policy accommodation can be maintained for a considerable period." That's Fedspeak to say, we'll keep short-term interest rates low well into 2004.
For now, the economy's momentum is coming mainly from consumers (chart). Retail sales in July surged by 1.4%, while May and June sales were revised up substantially. May receipts, originally reported to be unchanged from April, now show a 0.5% increase, and the June advance of 0.5% was recalculated to show a 0.9% gain. That means overall consumer spending, as measured in real gross domestic product, powered into the third quarter at an annual rate of 5% or better.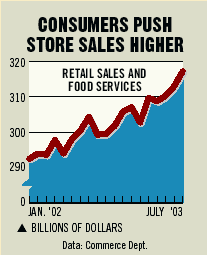 Excluding cars, store receipts in July were up an impressive 0.8%, with gains posted across a wide spectrum of vendors. And according to weekly store surveys, the buying spree continued in August, when the back-to-school season kicked off. The Bank of Tokyo-Mitsubishi retail report said the blackout's effect was "minimal" on nationwide sales.
Households have been able to boost their spending, thanks to the extra money generated by the July tax cuts and cash-outs from mortgage refinancings. But to sustain that buying pace, consumers will need job growth to pick up, and the latest trend in jobless claims offers some hope. New filings for unemployment benefits dipped under 400,000 in mid-July and stayed there into early August. While the level isn't yet low enough to indicate job growth, it does imply that businesses are not cutting jobs as rapidly as they had in the first half. A turn in the job markets will boost consumer confidence and strengthen spending patterns in quarters to come.
HOUSING IS ANOTHER SOURCE of solid momentum. Because of the stronger economic outlook, mortgage rates have come up from their lows of around 5% in mid-June. But at 6% or so, they remain cheap enough to keep home-buying healthy. In July, housing starts beat expectations by rising 1.5%, to a 17-year high of 1.87 million, at an annual rate. In addition, the National Association of Home Builders' Housing Market Index surged to 71% in August, the highest reading in more than 3 1/2 years. Current home sales posted a big jump in August, and sales expectations also rose.
The recent gains in overall demand are allaying fears of deflation. Consumer prices in July increased 0.2%. For core prices, which exclude food and energy, the gain was also 0.2%. Inflation may be stabilizing. Since May, total inflation has been running at 2.1%, while the core rate has hovered at 1.5%.
Even the deflation in goods prices may be bottoming out, a result of the weaker dollar's effect on import prices. Excluding oil, prices for foreign-made goods in July were up 1.2% from a year earlier. That compares with a 1.6% annual drop in import prices in July, 2002.
The acceleration in consumer spending has helped to clear out much of the merchandise stocked by businesses. In June, the ratio of inventories to sales at manufacturers, wholesalers, and retailers fell to 1.38, from 1.4 in May. Excluding vehicles at the retail level, the ratio is at a near-record low of 1.31. Skimpy stockpiles are a big reason why orders are picking up and why manufacturing is beginning to show signs of life.
INDEED, SOME OF THE BEST NEWS in recent weeks is from the industrial sector. First came a big increase in the Institute for Supply Management's July index of industrial activity. Next was the Fed's report showing July industrial production rose 0.5%, the biggest gain in six months. Manufacturing output was up 0.2%, the third increase in a row.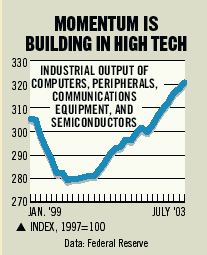 About half the industries surveyed reported output gains through June. But the most important increases were in capital equipment. Overall output of business equipment has risen by 0.4% for three months in a row. The makers of high-tech gear have been even busier (chart). Output in those industries has increased in each month of 2003, with an average advance of 1%. Such gains in tech output confirm that a capital-spending rebound is under way.
Manufacturing also may be getting some help from stronger demand abroad. In June, the trade deficit narrowed to $39.5 billion, from $41.5 billion in May, mainly on the strength of a 2.4% jump in exports -- the largest monthly increase in three years.
For now, at least, the economy is galloping into the second half, propelled by accelerating demand here at home, as the benefits of lower interest rates and tax cuts kick in. And the odds are high that stronger spending by consumers and businesses will sustain the economy's faster pace down the home stretch.
By James C. Cooper & Kathleen Madigan
Before it's here, it's on the Bloomberg Terminal.
LEARN MORE