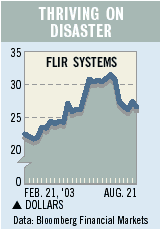 Finding a good growth stock at a reasonable price can be as hard as spotting a terrorist in the dark. FLIR Systems (FLIR ) can help on both counts, says Preston Athey of T. Rowe Price (TROW ) who owns the stock. FLIR makes cameras that work in the dark, in haze, and even in rooms choked with smoke. These are more than night-vision goggles. They read infrared radiation and are not affected by ambient light. Sales to the U.S. government, primarily for the military, account for 25% of revenues. Police and TV news helicopters carry the cameras to track felons. Factories buy other versions to detect temperature variations that foretell breakdowns. FLIR sold more than 100 devices to Asian authorities at $15,000 apiece to detect travelers with high fever that might be SARS. Sales will reach $305 million this year and grow 16%, to $355 million, in 2004, estimates Steven Colbert of JMP Securities. FLIR aims to drive down production costs so it can lower prices enough to spark demand. With a market cap of $900 million, FLIR sold 3% convertible debt in June to raise $150 million. Some of the money, the company says, will probably go toward cutting costs through buying out components suppliers. The stock trades at 26.50, or 22 times projected earnings per share in 2003. Athey says that's attractive in light of the company's 20% earnings growth. He has owned the stock for several years and rode out an accounting blow-up under old management in 2000, when the stock plunged 80%, to $1.53. Now, Athey is holding on. "It is good for a run into the mid-30s," he says.
Unless otherwise noted, neither the sources cited in Inside Wall Street nor their firms hold positions in the stocks under discussion. Similarly, they have no investment banking or other financial relationships with them.
By David Henry
Before it's here, it's on the Bloomberg Terminal.
LEARN MORE