Japan: Still in the Strong Grip of Deflation
Several recent signs offer hope that the Japanese economy is gaining strength, but deflation and other barriers to growth remain firmly entrenched.
Second-quarter growth in real gross domestic product was surprisingly strong, and the second-half outlook is brighter. Real GDP rose at an annual rate of 2.3% from the first quarter, and data for previous quarters were revised higher, bringing growth during the past year to 2.1%.
In the second half, improving global conditions, helped by a pickup in U.S. growth, reduced geopolitical uncertainty, and the fading SARS epidemic, are setting the stage for stronger exports, which will boost capital spending. Both sectors showed gains last quarter. Reflecting the economy's better prospects, the Nikkei stock index is up 11% since Aug. 7, to the highest level in nearly a year.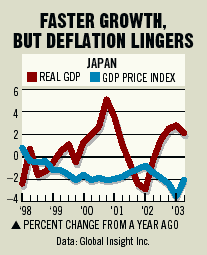 Business outlays are primed for further growth: Corporate profits are already strengthening. Companies' balance sheets look healthier, and manufacturers have shed excess capacity. Indeed, economists at J.P. Morgan Securities (JPM ) Inc. Asia note that private nonfinancial corporations made net loan repayments totalling a record 30.6 trillion yen ($260 billion) in the year ended March, 2003, and that manufacturers have cut capacity by 9% in the past five years, eliminating nearly all of the increase during the bubble years of the late 1980s.
So is this the light at the end of a long dark tunnel? Hardly. Even in the short term, the outlook for household spending is still murky. Deflation's grip on corporations is pressuring them to lift profits at the expense of jobs, and recent hikes in social security taxes are weighing on household incomes.
Deflation will not subside until growth is sufficient to absorb the remaining excesses in production capacity, which may be greater than the official data show. Possibly many companies are not reporting idle capacity that is, in fact, still on their books, because writing it off would be too costly. The rising tide of Chinese imports only makes deflation worse, and structural reform remains slow.
By James C. Cooper & Kathleen Madigan
Before it's here, it's on the Bloomberg Terminal.
LEARN MORE