Get the Picture -- With One Hand
Finally, a digital camera tailored just for the surf-and-ski set. Sony has taken its popular Cyber-shot U camera, turned it vertically, and wrapped it in a rugged, waterproof housing. The result is a $249 camera that's easy to use with one hand (if you're right-handed) while you're swimming, surfing, or snorkeling. Advice to southpaws: Adapt. It's worth it.
In your hand, the 2-megapixel DSC-U60 feels more like a cell phone than a camera. For setting up shots or replaying them, you can work all the buttons with your thumb. When you're ready to shoot, the shutter is an easy reach for your index finger.
And here's a clever twist: The entire camera body is canted some 30 degrees from the vertical to compensate for the natural curve in your arm as you hold the camera in front of you. When you rest it on its base to use the self-timer so you can get into the picture, the camera leans to offset the unusual angle.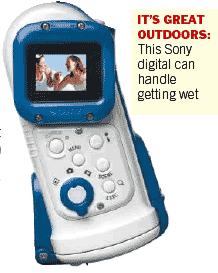 So what's not to like? The U60 isn't good for serious underwater photography: Sony says you can only take it 5 feet down (although it has been tested to 15 feet). There's no viewfinder, either, so you must compose your shots on the LCD display which, at 1 inch, is on the small side.
But hey, we're not talking about producing gallery-quality fish portraits. We're talking about having fun with a camera that's snow- and sand- and beer-resistant.
By Larry Armstrong
Before it's here, it's on the Bloomberg Terminal.
LEARN MORE