Will a Buyer Dial Nortel's Number?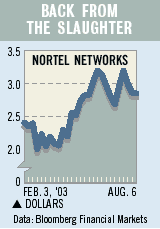 One of the dogs that got skinned in the telecom slaughter was Nortel Networks (NT ), plunging from 86 a share (after three splits) in 2000 to 40 cents by 2002. It has since rallied to 2.84. Suddenly, Nortel looks alluring -- to some. After worrying that Nortel might go belly-up, certain analysts now expect the network-gear supplier to be in the black by 2004. And with a cash stash of $4 billion -- enough to cover its debt -- Nortel "is looking like an attractive takeover bet," says Carl Birkelbach, CEO of Birkelbach Investment Securities, who has been buying. "My technical indicators say Nortel is a long-term buy with huge potential in the next three years," says Birkelbach, who has been writing Investment Strategy Letter since 1978. Nortel could be worth twice its current price in a takeover, he says.
Rumor says a foreign telecom and a buyout group are interested. Some bottom-fishers have been buying into telecoms, including Carl Icahn, who took control of XO Communications (XOXO ) and is also after Global Crossing. Warns Birkelbach: Nortel is "risky" and "speculative." It has slashed its workforce from 55,000 to 37,000. Overcapacity in telecom continues to plague Nortel, says Stuart Plesser of Value Line. He expects it to break even in 2003 on $9.5 billion sales and earn 5 cents a share in 2004 on $9.8 billion. Nortel didn't return calls.
Unless otherwise noted, neither the sources cited in Inside Wall Street nor their firms hold positions in the stocks under discussion. Similarly, they have no investment banking or other financial relationships with them.
By Gene G. Marcial
Before it's here, it's on the Bloomberg Terminal.
LEARN MORE