After a year and a half of fits and starts, the U.S. economy finally seems on its way to a real recovery. Heading into the second half, consumers are spending more freely. Businesses are loosening up their capital budgets, and skimpy inventories and rising orders are lifting industrial activity. Sounds promising, right?
But there's a catch. True, the outlook for U.S. demand is the brightest in years, as tax cuts, lower interest rates, healthier financial conditions, and reduced uncertainty work their magic. But overall demand is getting little help from outside the U.S., and much of the pickup in American spending is going to imports. The question: Can the U.S. be the locomotive for world growth without derailing its own recovery?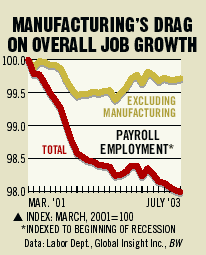 Stronger U.S. demand amid stubborn global weakness is almost certain to cause the trade deficit to balloon further. A widening trade gap, which subtracts from real gross domestic product, may rob the economy of that extra dollop of growth so crucial to capital spending and hiring -- the two requirements for a lasting recovery.
Because the volume of U.S. trade has doubled in the past decade, the U.S. is much more globally integrated and dependent on foreign demand. At the same time, America has dramatically improved its ability to grow faster, while other nations have not. The paradox here is that, until the rest of the world catches up, there is a built-in tendency for the U.S. trade deficit to grow. That's a key vulnerability for future U.S. growth, especially since America will have to find the funds to finance both an exploding budget deficit and a record trade gap.
THE LATEST DATA ILLUSTRATE what growth is up against. In the second quarter, real GDP grew at an annual rate of 2.4%. U.S. exports fell for a third consecutive quarter, as imports surged. Without the sharp widening in the trade deficit last quarter, the economy would have grown 1.6 percentage points faster.
That extra growth would have been sufficient to support more jobs, especially in the trade-sensitive manufacturing sector (chart). But in July, payrolls fell for the sixth month in a row. Since the recovery began, in late 2001, the economy has grown at an annual rate of 2.6% but has lost 1 million jobs. Excluding the $128 billion increase in the trade gap, growth would have been 3.2%, a clip that would have stanched those payroll losses and maybe even allowed for some gains.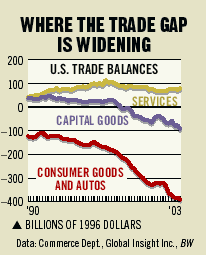 This leakage of U.S. demand to foreign producers would normally help to strengthen a struggling global economy. Indeed, key U.S. trading partners such as Canada, Mexico, and Emerging Asia will benefit, and the reciprocal boost for American exports to those areas will eventually help the U.S. However, Japan and Continental Europe face structural rigidities in labor and financial markets that are limiting their growth, and imports from China are a growing challenge to U.S. producers.
In fact, a U.S.-led recovery may worsen an already-alarming global trade imbalance instead of helping to repair it (chart). The U.S. current-account deficit, the broadest measure of the trade imbalance, appears to have risen to a record 5.4% of GDP last quarter. Most economists believe this level is unsustainable, especially at the current level of the dollar. A weaker dollar helps exports and deters imports, but amid brighter prospects for stronger U.S. growth, the trade-weighted greenback has started to rise again in recent weeks, after declining 9% from its early-2002 peak.
BY MOST MEASURES, the economy is looking better this summer than it did last winter -- but how much better? And how much momentum will the economy carry into 2004? With long-term interest rates rising, with housing peaking, with the refi stimulus set to wane, and with businesses so keen on boosting productivity instead of payrolls, a widening trade gap would be one more potential drag on growth.
The second-quarter GDP data showed a solid 3.3% growth rate in consumer spending, and a surprisingly strong 6.9% increase in business outlays for new equipment and buildings. Housing also posted a solid gain of 6%, fueled almost completely by spending on remodeling, thanks to the refi boom. Plus, the momentum building in the spring is carrying over into the third quarter.
Note, however, that a 44% surge in defense spending related to the Iraq war, which was the largest quarterly rise since the Korean conflict, accounted for a disproportionate 1.7 percentage points of the overall 2.4% gain in GDP. Without that boost, which won't be repeated to that degree in coming quarters, real GDP would have grown only 0.7%, which makes the impact of the wider trade deficit even more dramatic.
One negative in the second-quarter GDP data will actually be a big positive for the second half. Business inventories shrank by $17.9 billion, the first liquidation in more than a year. Given recent signs that both production and demand are picking up, that drawdown appears to have taken businesses by surprise. Reordering will generate output gains in coming months as businesses scramble to replenish their stocks.
THE NEW BUSTLE in business activity shows up in the Institute for Supply Management's July reports on both the manufacturing and nonmanufacturing sectors (chart). The ISM's index of industrial activity rose to 51.8%, the first time since February that the reading has exceeded 50%, the dividing line between growth and contraction. But the real zip was in nonmanufacturing, mainly services, where the ISM's index shot up to 65.1%, the highest level in its six-year history.
The trade deficit, with its disproportionate impact on manufacturing, results in a stark contrast between manufacturing and the rest of the economy, where trade patterns have less of an influence. And the factory sector's toll on the economy has been heavy.
Start with jobs. During the past year, overall private-sector payrolls are down 359,000, but that includes manufacturing losses totalling 697,000. That means nonmanufacturing jobs have actually increased by 338,000. Factories employ only 13% of all workers.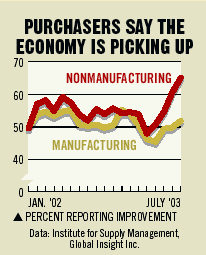 The factory slump is also hurting incomes. Overall wages and salaries, adjusted for inflation, have not grown in the past year, but outside of the factory sector, they are up nearly 1%. As for prices, consumer goods, excluding energy and food, show outright deflation: Prices are down 1.9% from a year ago. Meanwhile, service prices are up 2.9%.
But while manufacturing is at the eye of the trade storm, other sectors are also feeling the heat from increased global competition and the need to cut costs and lift productivity, which posted an exceptionally strong gain last quarter. Companies' success will show up on their bottom lines and in stock prices. However, these pressures will place added stress on U.S. employment and incomes at a time when economies outside the U.S. are still struggling to recover.
By James C. Cooper & Kathleen Madigan
Before it's here, it's on the Bloomberg Terminal.
LEARN MORE